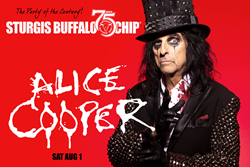 Five more of the hottest rock bands in the world are slated to perform at the Chip.
Sturgis, SD (PRWEB) May 13, 2015
The roster for the Largest Music Festival in MotorcyclingTM at the Sturgis Buffalo Chip® continues to grow as five more of the hottest rock bands in the world are slated to perform.
The undisputed king of shock-rock, Alice Cooper, will take the headline position on the Wolfman Jack Stage on Saturday, Aug. 1, following a performance by heavy metal rockers Five Finger Death Punch. Cooper is famous for his fantastical, theatrical rock shows which are known to feature guillotines, electric chairs, fake blood and boa constrictors.
One of music's best loved twisted, drag-rockers, Dee Snider, will perform from the main stage on Monday, Aug. 3. The front man and songwriter for Twisted Sister, Snider wrote and performed hit songs like "We're Not Gonna Take It" and "I Wanna Rock."
Scottish heavy metal rockers Nazareth will be joining Dee Snider and Godsmack on the main stage on Monday, Aug. 3. Nazareth will have Chip fans cheering and singing along to favorites such as the mega hit, "Love Hurts" and "Hair of the Dog."
American rock band Buckcherry will join Styx on the main stage on Thursday, Aug. 6 as the Buffalo Chip celebrates its 24th annual Freedom Celebration. With hits like "Sorry" and "Crazy Bitch," Buckcherry has become a Buffalo Chip favorite.
The heavy metal rock band Sweet Cyanide catapulted to fame on the Buffalo Chip's main stage performing with some of the most famous rock bands in history. Sweet Cyanide returns on Saturday, Aug. 1 and Friday, Aug. 7 to perform hits such as "In My World" and "Better at Goodbyes."
The concert series during the Largest Music Festival in Motorcycling™ will begin on Friday, July 31 and run through Saturday, Aug. 8, 2015. So far the Buffalo Chip has announced Five Finger Death Punch, Brantley Gilbert, Godsmack, Lynyrd Skynyrd, John Fogerty, Styx, Social Distortion, Shinedown and Def Leppard. The campground will open for camping on July 3, 2015 with live music starting on showcase stages beginning July 25.
About The Sturgis Buffalo Chip
The Sturgis Buffalo Chip is the Largest Music Festival in Motorcycling™. It is the world's first and leading entertainment destination for the motorcycle enthusiast. Established in 1981, the venue's high-profile, nine-day festival, known as The Best Party Anywhere™, remains one of the world's most televised and longest running independent music festivals. Buffalo Chip guests have the freedom to party and play while experiencing world-class concerts, outrageous events, moving freedom celebrations, thrilling PowerSports and more. Located three miles east of Sturgis, SD on 600 creek-fed acres, it offers cabins, RVs, camping, a swimming hole, bars, mouth-watering food, showers, paved roads, and more to visitors traveling from all corners of the world. The Chip's concerts are free with camping. More details are available at http://www.BuffaloChip.com.