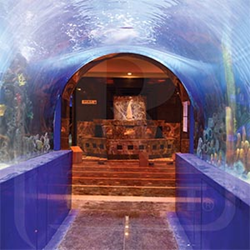 Grand Junction, CO (PRWEB) May 14, 2015
Taraporewala Aquarium in Mumbai has been an anchor of conservation in India since 1951. Sixty-four years later, the longtime landmark has now been revitalized in major ways. In fact, it is hard to find an aspect of the facility that has not been improved. Perhaps the most high-profile sign of Taraporewala's renewal comes at the entrance, where a 180 degree viewing tunnel welcomes visitors.
In total, the tunnel is made of nearly two vertical meters of R-Cast® acrylic with walls that are up to 100 millimeters thick. It holds 22,000 liters of water. In order to bring the 9,000 pound structure to life, RPT designers had to rely on seven strategically placed chemical bonds, each one engineered for maximum strength. The result is an impeccably clear, hand-polished R-Cast® tunnel that is four-and-a-half meters wide and three meters long. Within the tunnel, visitors find a plethora of plant and animal life which complete a tropical façade.
Once inside the facility, one can now jump in a "swim tank" and explore the underwater world with 350 to 450 different species of fish, catch a show in the amphitheater, or enjoy any one of 15 new tropical ecosystems. All told, there are 70 new varieties of marine fish and 40 new varieties of fresh water fish inside the new Taraporewala. Specimens include sharks, turtles, moray eels, sea turtles, and rays. There is even an educational program aimed directly at children that utilizes slide shows and film to share aquatic knowledge with the younger generations.
"This project was incredibly important to India and to me as an individual," said Pratheep Elangovan, RPT's lead sales representative in the region. "Conservation has an inherent element of history to it, but this project went above and beyond the norm. Taraporewala is a key to both our past and our future in many ways."
About Reynolds Polymer Technology, Inc.
During its 30 years in business, Reynolds Polymer Technology, Inc. has completed more than 1,900 projects in 57 countries, including the Aquadom in Berlin, Shark Reef in Las Vegas, and many other custom works. Reynolds is the manufacturer, fabricator, designer, and installer of R-Cast® acrylic sheets. The company is constantly raising the standard for what can be done with acrylic resins, and their products have been used extensively in the architectural, signage, aquarium, water-retaining, and scientific industries. Headquartered in Grand Junction, Colorado, Reynolds Polymer also has operations in Rayong, Thailand. Visit http://www.reynoldspolymer.com for more information. Proud member of the Association of Zoos and Aquariums.
Contact: Ed Mueck, Marketing Manager | Reynolds Polymer Technology, Inc. | 970.241.4700