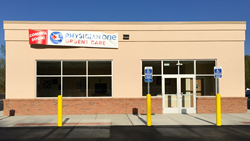 Derby area residents now have a great option for convenient, high quality, and time-saving medical treatment
Derby, CT (PRWEB) May 13, 2015
PhysicianOne Urgent Care is now open at 78 Pershing Drive, conveniently off of Route 8 and Route 334 in the Derby Pershing Shopping Center. It is conveniently located in the same plaza as Planet Fitness, Panera Bread, Aldi's, and the Italian Pavilion Restaurant. PhysicianOne Urgent Care provides expert walk-in medical care to patients 365 days a year for non-life threatening illnesses and injuries. Hours of operation are 8am– 8pm during weekdays and 9am– 5pm on weekends and holidays.
"Derby area residents now have a great option for convenient, high quality, and time-saving medical treatment," said PhysicianOne Urgent Care's CEO Lynne Rosen. "Our goal is to ensure that patients receive comprehensive and superior care throughout their entire visit. We also provide a continuum of care by referring our patients to specialists and primary care physicians when needed."
During the grand opening month of May, patients of the Derby clinic can enter a raffle to win a $75.00 gift certificate to the Italian Pavilion Restaurant. In addition, physicians, town officials, and employers may contact us to arrange a date and time to tour the new Derby facility. Besides expert care for most illnesses and injuries, PhysicianOne Urgent Care also offers occupational medicine and worker's compensation services.
Derby is PhysicianOne Urgent Care's 10th clinic in Connecticut. The company plans to expand rapidly within Connecticut and then expanding states by the end of 2015.
About PhysicianOne Urgent Care
Established in 2008, PhysicianOne Urgent Care is doctor owned and operated. As the first urgent care clinic in Connecticut to be accredited and certified by the Urgent Care Association of America, and accredited by The Joint Commission, PhysicianOne Urgent Care takes great pride in its practice of evidence based medicine, a patient first philosophy, providing a cost effective alternative to the Emergency Room, and being a convenient alternative to primary care physicians during off or peak hours. PhysicianOne Urgent Care provides walk-in treatment for a wide array of illnesses and injuries. On-site services include x-ray, lab services, and a medication dispensary.
All locations are open 365 days a year. Experienced providers are on-site at all times. Most insurances and Medicaid accepted. For more information, please visit http://www.PhysicianOneUrgentCare.com.