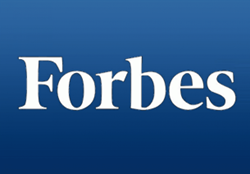 At Convergent, we see our family office heritage continuing to resonate strongly among those investors needing a more comprehensive wealth management solution.
Washington, DC (PRWEB) May 13, 2015
Forbes magazine announces Convergent Wealth Advisors among its Top 100 Wealth Managers. Convergent's repeat appearances in 2014 and 2015 showcase the firm's strong position in the wealth management space. As stated by Forbes staff writer Steve Schaefer, "More than ever they [investors] are turning to the counsel of independent financial advisors, judging by the swelling assets under management of the firms that make up the Top 100 Wealth Managers."
Convergent CEO Douglas Wolford adds "For affluent investors, finding the right wealth manager can be especially challenging in today's ever-changing marketplace. At Convergent, we see our family office heritage continuing to resonate strongly among those investors needing a more comprehensive wealth management solution. We seek to embrace all the complexities of managing wealth in an effort to reduce clients' stress, add to their peace of mind, and ultimately help them Invest Well. Manage Well. Live Well.TM"
About Convergent Wealth Advisors
Convergent Wealth Advisors is a recognized industry leader in wealth management, managing $8.2 billion in assets (as of December 31, 2014). Convergent provides investment consulting services and customized wealth management solutions to ultra-high net worth individuals and family offices with investable assets of $5 million and more. Independence by Convergent™ is a division of Convergent focused on servicing clients with $1 million and more in investable assets.
City National Bank is backed by $32 billion in total assets (as of March 31, 2015), and provides banking, investment and trust services through 75 offices, including 16 full-service regional centers in Southern California, the San Francisco Bay Area, Nevada, New York City, Nashville, and Atlanta. The company and its investment affiliates manage or administer $62 billion in client investment assets as of March 31, 2015. City National is the 25th largest American commercial bank by asset size.
Convergent has offices in Washington, DC, Los Angeles, New York, and Portland, OR.
Media Contact: Douglas Wolford | 301.284.1112 | Doug.Wolford(at)ConvergentWealth(dot)com
Non-deposit investment products are not FDIC insured, are not deposits or other obligations of Convergent Wealth Advisors, are not guaranteed by Convergent Wealth Advisors and involve investment risks, including the possible loss of principal.
Convergent is a majority-owned subsidiary of Convergent Capital Management, LLC, which is a subsidiary of City National Corporation (NYSE:CYN), the parent company of City National Bank.
Forbes List Methodology: The Forbes list ranked RIAs based on total assets under management using data as reported March 31, 2015. Data for the Top Wealth Managers list is compiled by RIA Database. Candidate firms qualify based on both quantitative and qualitative criteria.
Members of the list must have manage at least 50% of their assets on behalf of retail clients, cannot run a broker-dealer (they can be affiliated with one), cannot be a bank (trust companies are permitted), and must be performing wealth management services. Firms cannot have had any regulatory, civil or criminal disclosures.
The list looks beyond exclusively fee-only advisors because the RIA industry is evolving to incorporate more hybrid models as more reps break way from broker-dealers but carry along old business that includes some commission-based work.