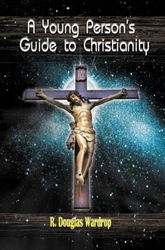 "This book is not only a fascinating read about the wonders of the universe, but offers important answers to young readers." - Robert Fletcher, CEO of Strategic Book Publishing and Rights Agency
(PRWEB) May 13, 2015
R. Douglas Wardrop believes that most books describing Christianity are not only filled with errors but are boring! His response? A book that is biblically accurate and anything but boring.
The author uses bold graphics and colorful presentations combined with simple language. The book is also fairly short and can be read through quickly.
Key beliefs of Christianity are defined and important questions are answered in biblically accurate language. "A Young Person's Guide to Christianity" provides a fairly complete description of Christianity and will appeal to young people from about seven years old to late teens. The book guides them on how to become born again Christians.
"A Young Person's Guide to Christianity" defines how you can begin your Christian life and a prayer for this is included.
"This book is not only a fascinating read about the wonders of the universe, but offers important answers to young readers. We are most pleased to announce its release," said Robert Fletcher, CEO of Strategic Book Publishing and Rights Agency.
Watch the video at: https://www.youtube.com/watch?v=Fm6FQGGA0BA&feature=youtu.be
A YOUNG PERSON'S GUIDE TO CHRISTIANITY (ISBN: 978-1-63135-582-0, ePub ISBN: 978-1-63135-581-3) is available for $9.99 at
http://epubco.com/childrensbooks/store/products/a-young-persons-guide-to-christianity-by-r-douglas-wardrop/, Amazon.com, BarnesandNoble.com, and in multi-formats for other e-Readers through numerous vendors online.
The soft cover version (ISBN: 978-1-62857-876-8, $19) can also be ordered through the publisher's website: http://sbprabooks.com/RDouglasWardrop or at Amazon.com Barnesandnoble.com.
WHOLESALERS: This book is distributed by Ingram Books and other wholesale distributors. Contact your representative with the ISBN for purchase. Wholesale purchase for retailers, universities, libraries, and other organizations is also available through the publisher; please email bookorder(at)sbpra(dot)net.