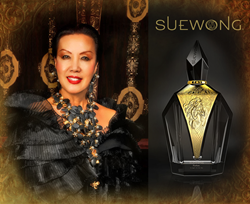 Los Angeles, CA (PRWEB) May 13, 2015
Internationally renowned celebrity fashion designer Sue Wong proudly launches the official SUE WONG online boutique: http://shop.suewong.com/ -- now live -- which can be accessed through her signature website http://www.suewong.com through the "SHOP" portal.
The best of SUE WONG gowns are presented under four diverse categories: New Arrivals, Cocktail, Evening and Wedding – all of which deliver what women need from fashion today for every possible occasion; from streamlined, elegant options to haute couture inspired show-stoppers. These are now available for immediate purchase.
Additionally, the official SUE WONG online boutique debuts SUE WONG Beauty products (exclusively available at http://shop.suewong.com/) unveiling the SUE WONG Eau de Parfum, which binds all things SUE WONG into one unique fragrance: romantic, alluring, sensual, timeless, and elegant. The fragrance will be exclusively available for the first six months through the official SUE WONG online boutique. It is available in both 50ml and 100ml bottles. Furthermore, the SUE WONG Shower Cream--essence of renewal and rejuvenation--is available in 200ml and the soothing, velour-textured SUE WONG Body Cream is available in 200ml.
As Sue insightfully shares: "The SUE WONG Eau de Parfum is sensual, beautiful and intoxicating in a very exotic floral way; yet hypnotically feminine. I designed the fragrance, which took a year to develop, as well as the Art Deco 1920's packaging, including the gorgeous black glass bottle. This fragrance is befitting for a true Goddess, or for any woman who wants to connect with her Feminine Divine. I like to empower women through beauty. Beauty is a powerful healing agent and is synonymous with my mantra, Beauty ~ Magic ~ Transformation, which parallels my new essence: SUE WONG Eau de Parfum."
Welcome to the Official SUE WONG Online Boutique.
In addition to free ground shipping offered within all 50 states of the United States, the first 300 purchases will receive a free SUE WONG Eau de Parfum sample.
ABOUT SUE WONG
World renowned fashion designer Sue Wong is known for dazzling fashionistas with her couture-inspired glamorous signature style, combining the allure and elegance of iconic bygone eras with a modern sensibility to create timeless works of art. Distinguished by the impeccable quality of traditional couture dress making, her designs are steeped in romance and mystery while being thoroughly modern and accessible to women everywhere. Sue continues to forge new ground in defining fashion that transcends generations and boundaries even as she creates masterpieces of passion and desire expressed through inimitable style. She has dressed countless celebrities including Anne Hathaway, Jessica Biel, Minnie Driver and Taylor Swift. Sue Wong is available from $385 to $900 nationwide at specialty boutiques, major department stores including Neiman Marcus, Saks Fifth Avenue, Nordstrom, Bloomingdale's, Lord & Taylor, Macy's and internationally in over 27 countries.
Media Contact
Greta Kovacs Schmid
Corporate In-House Public Relations
213-388-7400
http://www.suewong.com