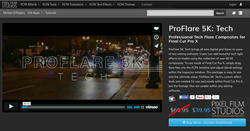 ProFlare Tech for FCPX comes with an all-in-one effect tool to make editing the lights a breeze.
Aliso Viejo, CA (PRWEB) May 20, 2015
ProFlare 5K Tech brings all new digital grid flares to users of any editing software. Users can add beautiful tech light effects to media using this collection of over 60 5K composites.
ProFlare 5K Tech's custom effect tools are created for use exclusively within Final Cut Pro X.
The movie files in this package are designed for Final Cut Pro X but are usable in any video editing software. This adaptability is why ProFlare 5K Tech is such a significant value. Choose between light leaks and quick flashes and combine them as seen fit to achieve the best looks imaginable.
This Plug-in comes with an all-in-one effect tool to make editing the lights a breeze. This effect can also add light trails to the footage and contains controls for the duration and trailing amount.
Simply drag and drop flare movies into the FCPX timeline on top of underlying footage to use and ProFlare 5K Tech is designed to make the user's editing life easier.
Pricing and Availability:
The Pixel Film Studios Plug-ins are available today through the Pixel Film Studios website starting at $29.95 USD. For more information, please visit the Pixel Film Studios website.
Established in 2006, Aliso Viejo, California-based Pixel Film Studios is an innovative developer of visual effects tools for the post-production and broadcast community. Their products are integrated with popular non-linear editing and compositing products from Apple FCPX. All Apple, the Apple logo, Mac OS X, and Macintosh are registered trademarks of Apple Inc. in the U.S. and/or other countries. All other trademarks and trade names are the property of their respective owners.