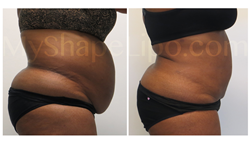 I'm ecstatic, MyShape Lipo has given me the waist that I had back in college
(PRWEB) May 14, 2015
Eleven inches loss in a single measurement around the waist, no it's not a typo. In just one liposuction treatment at MyShape Lipo, Denise has had a life changing result. She had high expectations based on the reputation of liposuction specialist Trevor Schmidt PA-C and was very pleased with the outcome.
Denise is so grateful for the unbelievable results she has experienced that she agreed to appear in television and radio commercials as well as numerous live interviews to share her amazing journey. She's struggled with her weight for decades and in a single liposuction procedure was able to accomplish her goal.
"I'm ecstatic, MyShape Lipo has given me the waist that I had back in college," says Denise. "I'm just happy that I was able to avoid the huge scar of a tummy tuck. The least I can do is help them spread the word about this amazing procedure"
Denise had been told by numerous plastic surgeons that she needed a tummy tuck to accomplish what she was looking for. Despite her resistance, not one Plastic surgeon would do liposuction on her, they only wanted to do a tummy tuck.
"I was so impressed with the professionalism and family atmosphere at MyShape Lipo," said Denise. "Trevor believed that I would get the results I was looking for without the tummy tuck. Since he has had so much experience I too believed in him and he came through big time."
Denise was told by plastic surgeons that she would have loose hanging skin after liposuction so she would need a tummy tuck to cut the skin away. It looks like all the plastic surgeons were wrong.
"It's amazing how well the skin retracts back after liposuction," says Schmidt. "I think plastic surgeons try to scare their patients into doing a tummy tuck, but in most cases, it's not necessary. Denise's results are quite common here at MyShape."
Schmidt, the liposuction specialist and owner of MyShape Lipo has had the experience of over 15,000 liposuction procedures on patients of all sizes and shapes. Based on his extensive liposuction experience, he believes that most women can avoid the large scar, difficult recovery and high risks of a tummy tuck surgery.
"Tummy tucks are great for removing excess skin," explains Schmidt. "But if you have an abundance of fat, then liposuction is the right answer. Skin naturally retracts after lipo, and we also have the option of laser skin tightening for improved elasticity in the area."
At MyShape Lipo, liposuction is done in the office setting entirely under local anesthetic. This completely eliminates all the risk and cost of general anesthesia as well as hospital fees. Considering the reduced risk, affordable price, quicker recovery and comparable results, liposuction seems to be the clear choice.
About MyShape Lipo
MyShape Lipo is a liposuction specialty facility located in Las vegas, NV. They serve patients from around the globe, who fly in to take advantage of their extensive experience and affordable rates. Trevor Schmidt PA-C, the liposuction specialist and owner has performed well over 15,000 liposuction procedures on patients of all shapes and sizes. They offer complimentary "Body Shape Analysis" via the phone for out of state clients or in person for their local patients. Call today for your consultation, 702-818-5476.