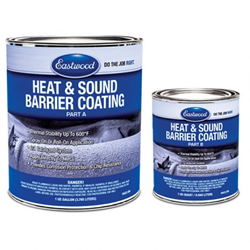 Pottstown, PA (PRWEB) May 15, 2015
Eastwood has developed Heat & Sound Barrier Coating to create a significant reduction in road or engine noise and transmission of driveline vibrations. It also helps keep heat from penetrating the vehicle's interior, drastically increasing the comfort level. The end result is an easy to apply product that will deadened sound and reduce heat being transferred to the auto's interior.
"Adding Heat & Sound Barrier Coating to a classic car greatly improves the comfort by cutting down on engine noise and heat," said Nick Capinski, Director of Product Solutions at Eastwood. "This product is easy to apply, simply roll or spray, plus it doesn't require a primer."
Eastwood Heat & Sound Barrier Coating is a 2-part catalyzed coating which deadens sound up to 5 decibels and reduces heat up to 40F. This product is as easy as applying paint - spray on or roll on application. It inhibits corrosion on bare metal, so no primer is needed. It's perfect for applying to floors, firewalls, and other hard to reach areas inside or on the underside of vehicles. This coating can be top coated with most paints, but by itself, it offers a durable gray finish that is UV, abrasion, and chemical resistant. It is even stable to heat as high as 600°F. A 1 1/2 gallon kit will cover 30 square feet at a thickness of 60mil.
Eastwood markets unique tools and supplies for repair, restoration, and modification of cars, trucks, and motorcycles. Founded in 1978, Eastwood continually develops products to serve the home automotive hobbyist, individual enthusiasts and organizations focused on restoration and revival of automobiles and motorcycles. Writers are always welcomed to use any article in Eastwood's Free Tech Library, with attribution. For more information, to speak to Eastwood's automotive restoration experts or to review any Eastwood product, please contact Nick Capinski.