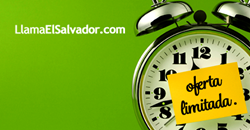 (PRWEB) May 15, 2015
For people who need to send international top ups to El Salvador, LlamaElSalvador.com created the perfect place: the Mobile Recharge service, where Tigo, Claro and Digicel are waiting for their customers with attractive offers.
Since good stories don't need introductions, here is what's inside the LlamaElSalvador.com goodie bag:

Tigo offers 60 minutes for free for every top up of $20 or more sent to a mobile in El Salvador. So, besides the mobile recharge amount received, the beneficiaries also get 60 minutes they can use to call US, most probably the senders themselves. The offer is valid until May 31st.
Claro loves bonuses, and it seems that this love is huge, as the operator offers 500% bonus on international top ups sent to El Salvador. The bonus applies to all top-ups above $10. The offer is valid until May 17th
Last, but not least, Digicel. The special offer multiplies the amount by 4, so customers send 4 times the amount they would normally send to Digicel mobiles in El Salvador. The bonus applies to all top ups above $10, and the offer is valid until May 31st.
LlamaElSalvador.com is known as a service provider which offers 100% transaction security and satisfaction. All major payment methods are accepted: Visa, MasterCard, American Express, Discover and PayPal. The mobile recharge process is easy and the top up is sent instantly to the destination number.
In case customers want to call people back home in El Salvador, they may use the Voice Credit service available on LlamaElSalvador.com that allows them to make international calls to their home country at rates starting at 10.9¢/min.
The Voice Credit purchased can be used to place international calls from:
1. any phone through the use of access numbers
2. from any computer with an Internet connection through the Web Call application or
3. from any smartphone as LlamaElSalvador.com offers a free app, for both iOS and Android devices, called KeepCalling. By using the free app, customers can call by using their phone contacts as long as they are saved in international format.
And the list of services LlamaElSalvador.com offers in order to make Salvadorans living abroad feel like home is not over yet! The Virtual Number is the third service Salvadorans may use, which is basically a local number in El Salvador. How does it work? With a Virtual Number, LlamaElSalvador.com customers can receive calls from El Salvador directly on the phones they are using in the US, Canada or anywhere in the world. This way, family and friends that call the Virtual Number, pay as if it were a local call, while LlamaElSalvador.com customers pay a low fixed monthly fee to receive their calls.
LlamaElSalvador.com believes that no distance is too long if people stay in touch on a regular basis. That's why all the services LlamaElSalvador.com offers make a great solution for keeping a close relationship with everyone "back home", when living abroad. This is mainly due to:

the customer-focused approach, based on safe and easy to use services
the frequent special offers: bonuses on international top ups
the great Customer Service available 24/7
About LlamaElSalvador.com:
LlamaElSalvador.com is an interactive website designed by KeepCalling, a global telecommunications company registered in 2002 in USA. Presently, KeepCalling provides its services to hundreds of thousands of consumers and businesses, with a focus on customer satisfaction. KeepCalling has been listed by Inc 5000 in top 20 telecom companies in the USA for the last 4 years. In 2014 the company was designated the 18th fastest growing company in the telecommunications industry in USA with a revenue increase of over 600% from 2010 to 2013.