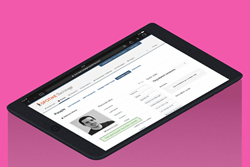 "2015 will be the year that brings app technology to smaller events and human interaction to larger events." -Pierre Metrailler, CEO Europe, SpotMe
Lausanne, Switzerland (PRWEB) May 15, 2015
ICCA and SpotMe are introducing three key innovations for the meetings industry in 2015: semantic data integration from exotic sources, cheaper self-service delivery of small meetings for medical societies and new productivity-boosting solutions for traditional sessions.
Data integration lets event owners take a holistic view of their events portfolio. They can then use a single app and content management platform, such as SpotMe's Backstage, to deliver and run all their events.
Event organizers can now also use the Backstage platform to build their own event apps. This slashes costs for simple apps and made it reasonable to use them at events with as few as 30 or 50 participants.
"We have thoroughly enjoyed working with SpotMe since 2006. From the first device to the current app, we have always been excited to try out their new innovations. The ICCA Congress provides the perfect platform for ICCA and its members, the leading meetings industry suppliers, to experiment with new ideas and innovations. SpotMe doesn't just provide an app, they are a great partner who understands the needs of our events and delegates, and proactively comes up with new ideas to provide the best experience for our delegates." -Martin Sirk, CEO, ICCA
"2015 will be the year that brings app technology to smaller events and human interaction to larger events." -Pierre Metrailler, CEO Europe, SpotMe
The vision of both ICCA and SpotMe to bring the intimate experience and productivity of small meetings into large congresses. For this they are developing new interactive tools for session formats such as plenaries, poster sessions and satellite symposia.