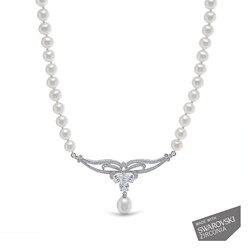 Montreal, Quebec (PRWEB) May 13, 2015
The emerging Genuine Cultured Pearl jewelry brand, Nishi Pearls, announces the launch of a new collection that combines pearls with Swarovski Zirconia stones in time for bridal season.
"SOMETHING OLD, SOMETHING NEW, SOMETHING BORROWED AND SOMETHING BLUE"
With bridal season fast approaching, many brides across the world will be carrying on enduring traditions on their special day which have been passed on from one generation to the next and which continue to persist in modern weddings. Some of these traditions involve jewelry, an essential component of a bride's attire which is also deeply rooted in old customs and traditions.
Wedding-day jewelry holds a unique significance for a bride that can be cherished as an heirloom piece. Jewelry is often incorporated in the old saying that a bride should don "something old, new, borrowed and blue," where it is common for brides to wear a piece that embodies either one of these characteristics.
This Old English saying dates back to the late 19th century where each item is meant to contain a universal symbolism – something old symbolizes something from her family's past such as an heirloom; something new represents the new life awaiting her; something borrowed stands for borrowed happiness and support from loved ones; something blue is emblematic of loyalty, unity and purity.
Pearls have long been associated with brides and bridal wear due to the many associations attached to the gem, such as the purity of their whiteness, their delicacy and beautiful lustre and unblemished surfaces, where pearls are believed to enhance these very characteristics in a bride. According to an old wives' tale, wearing pearls is said to replace the bride's tears and ensure a blissful and tear-free marriage.
Pearl jewelry can be the ideal gift to sustain these valued traditions. Nishi Pearls is a one-stop shop that furnishes brides and their bridal parties with jewelry that is as timeless and elegant as it is modern.
NISHI PEARLS MADE WITH SWAROVSKI ZIRCONIA COLLECTION
As an emerging brand in the jewelry market, Nishi Pearls' collection made with Swarovski Zirconia stones is geared especially to brides and their bridal parties.
The ingredient branding partnership with Swarovski has led to the formation of a unique collection fashioned in sterling silver that marries beautiful Genuine Cultured Freshwater Pearls with sparkling Swarovski Zirconia stones.
Nishi Pearls' made with Swarovski Zirconia collection features uniquely crafted pieces conceived to be versatile enough to be mixed and matched with one another to compliment any bridal attire.
Nishi Pearls' collection captures the renewed appreciation for vintage styles and designs taking hold of current bridal jewelry trends. Some of the key vintage components that have been incorporated into the ingredient branded collection include intricately-designed motifs embellished with Swarovski Zirconia stones on 5-strand bracelets, milgrain detailing carved into chandelier earrings and necklaces as well as Art Deco-inspired geometrical patterns.
Combining the traditional allure of pearls with Swarovski Zirconia stones brings forward a novel dimension to pearl jewelry like never before.
The Nishi Pearls made with Swarovski Zirconia collection will be exhibited at this year's edition of the Jeweler's Circular Keystone tradeshow in Las Vegas and will be available for purchase on the Nishi Pearls website.
Nishi Pearls™ is a brand that specializes in designing and creating a wide range of genuine cultured pearl jewelry that creates the perfect marriage between classic and contemporary. With offices located in Asia, Canada and the U.S.A, Nishi Pearls has been making its mark at some of the most prominent international jewelry fairs including the Jewelers International Showcase, the Orlando Duty Free Show of the Americas and the Jewelers' Circular Keystone's (JCK) annual trade show in Las Vegas, to name a few.
Nishi Pearls' dedication to quality is reflected in its partnerships with leading professionals, including their latest co-branding endeavor with Swarovski as well as Air Canada's Inflight program. Their award-winning jewelry is inspired by the consumer of today and the fashion of tomorrow.
Visit them at: http://www.nishipearls.com/online/