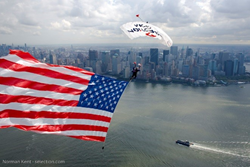 God bless America, and God bless the men and women who have served, and those who continue to serve our country.
(PRWEB) May 15, 2015
On Saturday, May 16th, 2015 at 9:00 AM, members of our nation's military will skydive with Team Fastrax™ Skydiving Team. At the same time, the team will jump with US Flags as large as 7,800 square feet. The event is to honor our nation's military men and women, past and present on Armed Forces Day. The event is open to the public to attend, observe and honor. In addition, wounded warrior retired Air Force Staff Sergeant, Tony Paletta will train to parachute jump with his therapy dog Aggie. The event is also to draw attention to the upcoming Team Fastrax™ Warrior Weekend to Remember July 9-12, 2015. Website: http://www.warriorwtr.com
This event will be held at Start Skydiving, Middletown Regional Airport, Hook Field, 1711 Run Way, Middletown, OH 45042. No registration is needed for observation. Media is welcome and encouraged to attend. The military jumpers will arrive by 8:00 AM, and media are encouraged to be at Start Skydiving at that time. We anticipate everything will conclude by 10:00 AM. Drop Zone Website: http://www.startskydiving.com
In regards to the upcoming Team Fastrax™ Warrior Weekend To Remember, John Hart, owner of Start Skydiving, and founder of Team Fastrax, said, "The Team Fastrax™ Warrior Weekend To Remember is very important to our team. Members of Team Fastrax have served the United States of America as part of the Armed Forces, many in combat. So, to be a part of an event so special, that will put a smile on the faces of so many of our wounded active duty and veteran armed forces members, is a great honor. God bless America, and God bless the men and women who have served, and those who continue to serve our country."
Since the inception of Team Fastrax™ Parachute Demonstration Team in 2002, the team has performed thousands of exhibition skydives at every entertainment venue imaginable. Team Fastrax™ has performed as far away as Moscow, Russia and Normandy, France. The team is approved to jump into highly-restricted airspace and is the only team to have performed over Ground Zero on 9/11 in New York City, the Pentagon in Washington, D.C., Independence Hall in Philadelphia, PA and over the Arizona Memorial in Pearl Harbor, Hawaii. We jump at balloon festivals, air shows, NASCAR, Indy Race League, Formula One, symphony performances, golf courses, amusement parks, tennis courts, the Red Bull Air Races and our favorite, veteran support events. In addition, we have performed at various sports venues such as Major League Baseball, the National Football League, Major League Soccer, NCAA baseball, football and lacrosse, high school sporting events and others; sometimes dressed in mascot costumes and franchise uniforms. Team Website: http://www.teamfastrax.org. Team Fastrax is sponsored by Selection.com®, a leading provider of criminal background checks and pre-employment screening services.
Media Contact: David Hart, dhart(at)teamfastrax(dot)org – 513-907-6805.