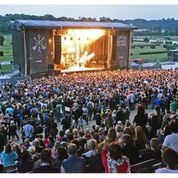 Top talent from all over the world, including many US artists
Düsseldorf, Germany (PRWEB) May 13, 2015
Fans of experimental dance music, indie, and electronica have enjoyed the Open Source Festival (OSF) in Düsseldorf for a decade now, and the 10th festival on June 27, 2015, is yet another summer opportunity for all kinds of progressive and experimental expressions in these genres. Most of the program takes place at outdoor stages at a horse track outside of the city, and the vibe is relaxed, hip, and cozy. But make no mistake: Top talent from all over the world, including many US artists, find their way to the OSF, for about 30 bands and performances.
Headliners include:
Grammy-nominated US band "Death Cab For Cutie," one of the most successful indie rock bands today, will fill the summer air from the main stage with their beautiful and reflective sounds and lyrics, perfect for the setting.
Metronomy, a three-boy-one-girl-band from the UK, is a master of electronic pop music, and the group will bring its classy instrumental and vocal pieces to the main stage for extra good dancing and great vibes.
Future Brown, another US group, will perform songs from their debut album, including the single "wanna party," the motto for their gig and the whole festival.
Kakkmaddafakka from Norway, also scheduled for the main stage, is finally able to join the festival for their first performance here. Known for wacky disco pop rock and improvisational indie circus, they will shake up the crowd with sound and movement.
Laurel Halo, who grew up in Michigan, infuses her classical education and inspiration from home into her particular brand of new electronic music. She will play her rhythmic, bassy soundscapes on the Carhartt Wip Stage.
In total, there will be three stages for the day program: the Mainstage, Carhartt Wip Stage, Young Talent Stage, and "Teehaus" (tea house) -- added last year.
The day program, which takes place on the three stages at the horse track in Grafenberg Forest by Düsseldorf, goes from 1 pm until Midnight. After Midnight, the party moves to the city of Düsseldorf, where the music and dancing continues in several of the city's clubs until dawn.
For more information about OSF, please visit: http://www.open-source.festival.de.
For more information on the destination Düsseldorf, please visit http://www.visitduesseldorf.de.
Düsseldorf's tourism office is offering hotel and city specials for stays in 2015. The package, called "Düsseldorf à la Card," can be booked right from the tourism office's website at https://www.duesseldorf-tourismus.de/en/accommodation/hotel-packages/duesseldorf-a-la-card/. Prices start at €49 per night per person based on double-occupancy for a 2-3-star hotel in the city center and at €95 per person for a 4-star hotel. The package includes breakfast, one DüsseldorfCard (free public transportation within city limits plus 30 free or reduced admissions to city attractions), and a city information package. Please check the website for current information.
# # #
Düsseldorf Marketing & Tourism GmbH is the visitors and convention bureau of the city of Düsseldorf. Its responsibilities include tourism and city marketing, as well as conference and meeting marketing, hotel reservation services, fairs and convention services, city event ticket sales and advance ticket reservations. For more information, visit http://www.visitduesseldorf.de.
Düsseldorf Airport, Germany's Next Generation HubTM, offers several non-stop flights from US cities (Atlanta, Chicago, Ft. Myers, Los Angeles, Miami, New York, Newark), as well as convenient connections to many European cities. For more information about the airport, visit http://www.dus.com.