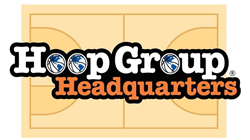 Neptune, NJ (PRWEB) May 14, 2015
The worldwide leader of advanced basketball instruction, Hoop Group, announces an early bird discount offer for camp this summer. Using the code 'ebird15', campers can save on any basketball camp in the Neptune building this summer.
"Summertime is one of the busiest and most fun times of the year at Hoop Group Headquarters," says Tiny Green, Director of HGHQ Skill Instruction. "With camps that will help players raise all aspects of their game, these are must attend camps for anyone serious about basketball. If you're a fan of hoops, this is the place for you."
Camps listed for this summer include the popular Core Skills, Nothing But Skills, Ball Handling & Shooting Combo Camp and Point Guard Camp. There is also Bob Hurley Camp, Mike Rice Scoring Camp and Chris Champeau Camp, which allow players to learn from some well-established high school and college coaches.
For more information regarding this event, or to register, please contact Eric Kessler at Kesser(at)hoopgroup(dot)com, or to see the camp schedule for the summer, visit: http://hoopgroup.com/headquarters/2015-hghq-schedule-of-events/
About The Hoop Group
Hoop Group is the worldwide leader in basketball instruction, offering premier basketball camps since the summer of 1963. Having touched the lives of over one million young men and women, Hoop Group has evolved from simply offering summer basketball camps, to hosting tournaments and competitions, skills camps, and basketball facilities to the basketball community.