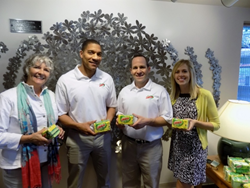 "We are pleased to help support the American Cancer Society's efforts to make a difficult situation easier for cancer patients and their caregivers." - Andrew Libman, The Libman Company
St. Louis, MO (PRWEB) May 13, 2015
The American Cancer Society is pleased to announce that The Libman Company has donated 30,000 sponges to the Society's Hope Lodges around the country. Hope Lodge provides no-cost lodging and support to cancer patients traveling to receive treatment, helping alleviate the overwhelming financial burden these families face during one of the hardest times of their lives.
Andrew Libman, a fourth generation owner of the company that manufactures household and commercial cleaning products in the U.S., personally delivered sponges to the St. Louis Hope Lodge on Tuesday, May 12.
"Getting the best care sometimes means cancer patients must travel away from home. The Lodges offer the comfort of home but also need to be cleaned just like your home would. We are pleased to help support the American Cancer Society's efforts to make a difficult situation easier for cancer patients and their caregivers," said Mr. Libman.
"We are extremely grateful to Libman for providing this generous donation. There is never a charge to the patient to stay at one of the Society's Lodges but it does take resources to keep the Lodges operating and donations like Libman's help us to continue to provide a nurturing, comfortable environment for patients during their stay. Not having to worrying about lodging allows them to focus on what is most important—fighting cancer," said June Shinners, director of Hope Lodge.
Fortunately for patients traveling away from home for cancer treatment, the American Cancer Society offers 31 Hope Lodge locations throughout the United States to lessen the financial burden on families, as well as to provide a supportive environment for cancer patients and their caregivers.
Last year Hope Lodge facilities across the country provided more than 265,000 nights of free lodging, saving cancer patients an estimated $38 million in hotel expenses. Altogether these facilities nationwide serve about 43,000 patients and their caregivers yearly.
Hope Lodge locations vary in size, but each Lodge offers a private bath and sleeping accommodations for two (one guest undergoing cancer treatment and one caregiver). There are also community dining, laundry, kitchen and recreational areas.
For more information about the Hope Lodge program, please call the American Cancer Society day or night at 1-800-227-2345 or visit cancer.org/hopelodge.
###
About the American Cancer Society
The American Cancer Society is a global grassroots force of nearly three million volunteers saving lives and fighting for every birthday threatened by every cancer in every community. As the largest voluntary health organization, the Society's efforts have contributed to a 22 percent decline in cancer death rates in the US during the past two decades, and a 50 percent drop in smoking rates. Thanks in part to our progress nearly 14.5 million Americans who have had cancer and countless more who have avoided it will celebrate more birthdays this year. We're determined to finish the fight against cancer. As the nation's largest private, not-for-profit investor in cancer research, we're finding cures and ensuring people facing cancer have the help they need and continuing the fight for access to quality health care, lifesaving screenings, clean air, and more. For more information, to get help, or to join the fight, visit cancer.org or call us anytime, day or night, at 1-800-227-2345.
About The Libman Company
The Libman Company is a family-owned company that has been making quality cleaning tools since 1896. The company manufactures products from brooms and mops to more specialized tools for kitchen and bathroom cleaning and industrial uses. Libman proudly manufactures most of their products in the United States, including the company's well-known Wonder® Mop. For more information about the Libman Company, please visit http://www.libman.com.