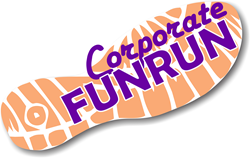 Purchase, N.Y. (PRWEB) May 13, 2015
The 2nd annual Corporate FunRun Westchester 5k will take place on Thursday evening, July 16, at SUNY Purchase. This after-work, company-based running/walking event will benefit Blythedale Children's Hospital, and will feature a post-race party and awards ceremony honoring the top individual and team racers.
The Corporate FunRun 5k series, which began in 2014, was created as a workplace fitness event to engage employees, encourage team building, and promote health and fitness amongst area companies. Last year's events gained the participation of more than 150 company teams and 1800 team members across races in Westchester, Fairfield, and Long Island. 2015 events have expanded to include Baltimore, Delaware, Philadelphia, and Northern New Jersey.
"The Corporate FunRun truly is the summer's best office party," said Bruce Pienkny, president of Corporate FunRun. "We're thrilled to bring this event back to Westchester for a second year, and look forward to a special evening of team building, fundraising, and fitness."
Sponsors of the 2015 Corporate FunRun Westchester 5k are Dannon, ProClinx Physical Therapy, Pure Insurance, Evian, O'Connor Davies, Co-Communications, New York Running Company, The Westchester Bank, LIU Hudson, Club Fit, White Plains Hospital, Wilson Elser, Clarfeld Financial Advisors, and Westchester County Business Journal. Funds raised from the event will proudly support Blythedale Children's Hospital in Valhalla, NY.
The run/walk will take place from 6:30 to 7:30 p.m., and a post-race party featuring a DJ and BBQ, catered by New York Hospitality Group (Sam's of Gedney Way, Great American Barbeque), will be hosted on the lawn of the Performing Arts Center on the SUNY Purchase campus from 7:30 to 9:30 p.m.
More than two dozen area companies have already registered. To join or create a team, visit http://corporatefunrun.com/event/westchester-5k-suny-purchase-2/. Online registration closes Monday, July 13; participants can also register with their team on race night beginning at 5 p.m. Registration is $38 per team member.
For more information, visit http://www.corporatefunrun.com, or contact Bruce Pienkny at brucep(at)corporatefunrun(dot)com or 347-844-9687.
About Corporate FunRun:
Founded in 2014, Corporate FunRun is 5k run/walk with races in Westchester County, NY, Fairfield, CT, Long Island, Baltimore, Delaware, Philadelphia, and Northern New Jersey. A workplace fitness event, Corporate FunRun is an unbeatable team-building experience and the summer's best office party. The 2015 Westchester FunRun will be held at SUNY Purchase in Purchase, NY on Thursday, July 16. For more information, visit http://www.corporatefunrun.com.