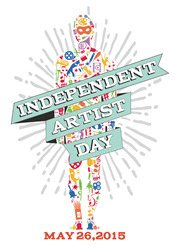 "We want Independent Artist Day to be a day where Independent Artists from across the world experience a huge spike in exposure and revenue... it's a day for celebrating, supporting and sharing the indie art that we enjoy so much every day of the year"
Sacramento, CA (PRWEB) May 15, 2015
Independent musician Jake Ballentine and his indie filmmaker brother Kenny are no strangers to the challenges that face modern independent artists. The two Sacramento based brothers both rely solely on their respective artforms to provide for their families and have a passion for helping other artists to do the same. This month they are on a mission to get a new holiday added to everyone's calendar; namely, the first annual Independent Artist Day. The new holiday will be observed on May 26, 2015.
"We want Independent Artist Day to be a day where Independent Artists from across the world experience a huge spike in exposure and revenue... it's a day for celebrating, supporting and sharing the indie art that we enjoy so much every day of the year" says Jake. Kenny adds that he envisions IAD as "a cultural buying day for independent art… one focused day for showing our support for indie artists, as well as a day for indie artists to show their appreciation of their fans."
So, how does one celebrate Independent Artist Day? The Ballentine's have created an Independent Artist Day Action Kit that is available for download at independentartistday.com. The kit includes resources for sharing the IAD message with the world and instructions for how to officially observe the event. According to the kit, on Independent Artist Day fans of independent art are encouraged to use the official "I Support Independent Art" social media badge as their Facebook, Twitter and Instagram profile picture for at least 24hrs, share the work of their favorite indie artist with the hashtag #IndependentArtistDay, and support their favorite independent artist by buying some of their work.
Indie Artists from all disciplines are encouraged to participate by creating live Independent Artist Day events or online special offers for their fans.
For more information on the first annual Independent Artist Day visit independentartistday.com.
About Kenny and Jake Ballentine: Jake Ballentine is an independent musician and an award winning youth motivational speaker. Kenny Ballentine is an award winning indie filmmaker. Together, the Ballentine brothers teach business and marketing skills to indie artists from around the world.