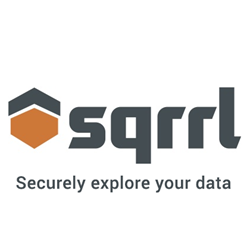 "Companies and government agencies are dealing with a flood of cybersecurity data, and need tools to help their analysts more easily make sense of this information." - CEO of Sqrrl, Mark Terenzoni
Boston, MA (PRWEB) May 15, 2015
Sqrrl today announced it was named to The Channel Company's 2015 CRN® Big Data 100. The annual list recognizes companies that bring innovative tools, technologies and services to market, helping organizations productively manage, process and analyze the increasing volume of information being generated today.
Businesses continue to struggle with exploding volumes, speed and variety of information being generated, and solution providers are looking to tame that "big data" with solutions that help customers turn it all into meaningful statistics. Understanding this challenge, the CRN editorial team has identified key vendors that are bringing innovative business analytics, data management, and infrastructure technologies and services to market.
"Sqrrl is a leading provider of Big Data Security Analytics," said CEO of Sqrrl, Mark Terenzoni. "Companies and government agencies are dealing with a flood of cybersecurity data, and need tools to help their analysts more easily make sense of this information."
With Sqrrl's cybersecurity solution, users can detect and respond to advanced data breaches associated with cyber-espionage activity, insider threats, and other types of hard-to-detect attacks. At the core of Sqrrl's architecture are a variety of Big Data technologies, including Hadoop, link analysis, machine learning, Data-Centric Security, and advanced visualization.
"When it comes to selecting building block technologies for big data solutions, channel partners need a dependable resource they can rely on to identify the key tools available," said Robert Faletra, CEO, The Channel Company. "We congratulate the vendors of the CRN Big Data 100 for their innovation and commitment to helping businesses manage the big data challenge."
The 2015 Big Data 100 list is featured online at http://www.CRN.com, and will be published in the June issue of CRN.
About Sqrrl
Sqrrl is the Big Data Analytics company that lets organizations pinpoint and react to unusual activity by automatically uncovering hidden connections in their data. Sqrrl's linked data analysis platform gives analysts a way to visually investigate these connections, allowing them to rapidly understand their surrounding contexts and take action.
About The Channel Company
The Channel Company, with established brands including CRN®, XChange® Events, IPED® and SharedVue®, is the channel community's trusted authority for growth and innovation. For more than three decades, we have leveraged our proven and leading-edge platforms to deliver prescriptive sales and marketing solutions for the technology channel. The Channel Company provides Communication, Recruitment, Engagement, Enablement, Demand Generation and Intelligence services to drive technology partnerships. Learn more at http://www.thechannelcompany.com.