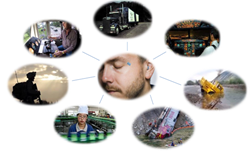 . "The colossal advantage to our technology is that the alert is sent to the user when they are becoming drowsy – when there is time to avoid catastrophe."
Wilmington, NC (PRWEB) May 14, 2015
New technology and a recently patented device are opening new opportunities in solving sleep-related issues affecting over 90 million Americans. Pursuit Enterprises has designed a device that will alert individuals who are becoming drowsy while driving or working. According to founder and inventor Polly Harman, this is critical in situations where falling asleep can be fatal. This device will also deliver solutions to other sleep related disorders such as snoring and sleep apnea.
"We are targeting pilots, train operators, truck drivers and others where exhaustion can kill," said Harman. "The colossal advantage to our technology is that the alert is sent to the user when they are becoming drowsy – when there is time to avoid catastrophe."
Current technology utilizing eye-tracking, head-tracking and lane departure warning systems have proven ineffective because they are external, so the alarm often sounds after sleep has occurred. Harman's device, on the other hand, consists of a miniature sensor positioned near the user's eye and an alert component placed in the ear – similar to a wireless ear bud. This crucial difference keeps the individual alert throughout tasks where responsiveness is key.
In the commercial application, the alert signal will be sent remotely to a home office for immediate intervention. For example, when a train operator is becoming drowsy, the command center will call the driver immediately before a catastrophe can occur.
"Recent developments in nanotechnology, miniaturization and printed electronics have made all this possible," Harman said. "This device, utilizing smartphone applications and cloud-based technology, is unobtrusive, comfortable and will be available over-the-counter for consumers.
The 2013 New York train derailment killing four people, http://www.cnn.com/2013/12/01/travel/new-york-train-derails/. CNN News updated, December 1, 2013; 2014 Chicago train derailment injuring 34 people and causing 9.1 million in damages, http://www.huffingtonpost.com/2014/04/07/ohare-train-crash-cost_n_5105952.html. Huffington Post published April 7, 2014; and the Exxon Valdese oil spill http://www.eoearth.org/view/article/152720/, published June 9, 2010, all resulted from critical personnel falling asleep on the job.
"And work incidents aren't the only problem," Harman explained. "Equally as important are the millions of highway deaths and injuries caused by exhausted drivers falling asleep at the wheel. Hopefully, my device will be a lifesaver for both private and professional users."
To learn more visit http://www.pursuitenterprisesllc.com or email polly(at)pursuitenterprisesllc(dot)com