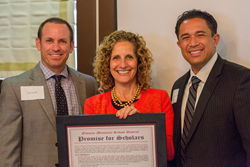 "Educational access for all students, including those from underrepresented families, is paramount to the University of La Verne." - University of La Verne President Devorah Lieberman
La Verne, Calif. (PRWEB) May 13, 2015
Students in two Inland Valley school districts will have an increased chance of admission and success at the University of La Verne through agreements signed by University and district leaders this month.
Dr. James Q. Hammond, Superintendent of the Ontario-Montclair School District, Mathew Holton, Superintendent of the Chaffey Joint Union High School District and University of La Verne President Devorah Lieberman signed a Memorandum of Understanding during a ceremony May 8 at La Verne. A second agreement was signed May 12 at the Chaffey district office in Ontario.
"Educational access for all students, including those from underrepresented families, is paramount to the University of La Verne," Lieberman said. "We are honored to be entering this new partnership, one that will provide students with the highest quality education and, ultimately, the opportunity to become community leaders and successful professionals."
Ontario-Montclair's partnership with La Verne establishes a pathway for students in Promise Scholars – a program that ensures students who meet requirements will gain admission to partner colleges. La Verne is the only private institution partnered with Promise Scholars.
"These agreements reaffirm and build upon the University's commitment to assist students in making informed choices for a postsecondary education," said University of La Verne Provost Jonathan Reed. "I look forward to the success stories that grow out of these collaborative efforts."
La Verne agreed to waive its application fees for qualifying students, provide campus tours for two middle schools and assign masters-level counseling interns to assist with college and career readiness at Ontario-Montclair elementary, middle and high schools. La Verne staff will provide business leader presentations to sixth-graders, financial aid workshops and other college-access activities.
"Ontario-Montclair School District students deserve to be fully prepared to participate in the 21st century economy and Promise Scholars provides a vital pathway to a brighter future for all our students," Dr. Hammond said.
Chaffey's partnership with La Verne paves the way for creating college preparation programs that will increase the number of Chaffey students being admitted to La Verne. The partnership includes ongoing training for teachers, counselors and parents regarding La Verne's admissions requirements, but also provides students with support once they have been accepted at the University. Admitted students who complete the Free Application for Federal Student Aid will receive a scholarship worth at least $5,000.
"We are especially privileged to engage in this new partnership with the University of La Verne, one of the area's premier private universities," Holton said.