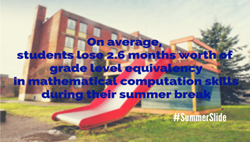 Most students lose about two months of grade level equivalency in mathematical computation skills over the summer months.
Atlanta, GA (PRWEB) May 15, 2015
GPALoveMath™ is a unique learning platform allows children to learn at their own pace while providing them with all the instruction they need to learn new math skills and concepts. The adaptive practice algorithm responds to the child's previous answer to determine the ease or difficulty level of the next problem.
According to the National Summer Learning Association (NSLA), "Most students lose about two months of grade level equivalency in mathematical computation skills over the summer months". Summer learning loss is an issue that has parents and teachers nationwide looking for a solution. A recent survey conducted by the NSLA confirmed that teachers spend a significant amount of time re-teaching material due to summer learning loss. Most families find it difficult to keep their child's skills refined during the summer months, when they are no longer engaged in the everyday learning that occurs in the classroom. GPALoveMath™ provides an alternative to completing tedious math workbooks to maintain your child's math skills during the summer break. GPA LEARN™ does not see the break from school as a break from learning. For schools that use GPALoveMath™ during the academic year, its a valuable transitioning bridge between one grade level to another.
GPALoveMath™ is a great way to get children "math ready" when school starts up in the fall. It is designed with success in mind. No boring drills or bulky workbooks; students are taught, tutored and tested on grade specific math skills with animated learning coaches. Three components make up GPALoveMath™: Learn, Engage and Motivate; the trifecta for conquering math.
LEARN contains the fun, animated and sequenced math curriculum with instructional lessons, practice problems and quizzes to measure the student's acquisition of math skills.
ENGAGE is managed and controlled fully by the parent allowing a safe network for the child, parents, teachers, and extended family to cooperate in facilitating the student's learning.
MOTIVATE, by far the most "rewarding" component of GPALoveMath™, allows students to earn points based on achievement as they progress through the application. The earned points can be used to redeem real rewards like tickets to museums, aquariums and sporting events. Also, parents can customize their own surprise rewards to celebrate their child mastering skills and completing lessons.
To take advantage of GPALoveMath™ for use at home or to learn more visit http://www.gpalovemath.com or call (404) 507-2571.
School teachers and administrators please contact us for a demonstration or a pilot at 404-507-2571 or sales(at)gpalearn(dot)com. During the school year, GPALoveMath™ is a great complement to any math curriculum an elementary school uses.