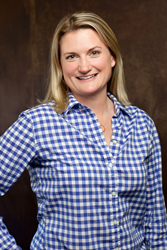 "Andrea is extraordinarily passionate about our business, about her people, and with her leadership, we will take leaps forward in the development of our wine portfolios," Donny Sebastiani
Sonoma, California (PRWEB) May 13, 2015
Don Sebastiani & Sons, fourth-generation Sonoma Valley vintners, today announced Andrea Staby has been promoted to Director of Marketing. In her new role, she will oversee all Design, Creative, Marketing, Trade Promotions, and New Products for the family company.
"After an extensive search in early 2014, we were lucky to have the opportunity to bring Andrea on board as Brand Manager. In a very short time, Andrea has proven herself to be a maven of marketing. Her broad knowledge in the wine business, from grape to bottle will help us streamline our winemaking, marketing and sales efforts. Andrea is extraordinarily passionate about our business, about her people, and with her leadership, we will take leaps forward in the development of our wine portfolios," said Donny Sebastiani, company president and CEO.
Prior to joining Don Sebastiani & Sons, Ms. Staby spent eight years, first as an Associate Marketing Manager and then as the Marketing Manager at Trinchero Family Estates. She successfully oversaw several of their prominent brands including Sutter Home, Fre, Sycamore Lane and Newman's Own. Her experience includes brand development, marketing strategy, advertising, consumer and trade promotions, digital media and partnerships. Ms. Staby holds a bachelor's degree from Sonoma State University in Rohnert Park, California.
Ms. Staby has stated that she is only as strong as the team behind her, and as such, has announced two new appointments within her team. Don Sebastiani & Sons Marketing and Public Relations Coordinator, Polina Burns, has been promoted to Assistant Brand Manager, New House Vintners. Ms. Burns is passionate about wine and education, recently completing her Certified Specialist of Wine Certificate. She focused on entrepreneurship and brand management while studying at Babson College, where she attained a Masters of Business Administration in 2012.
The company's Marketing Assistant, Cassie Rodriguez has been elevated to Assistant Brand Manager, Foundation Wine Collection. Ms. Rodriguez started in Marketing as an intern for Simon Property Group while completing her Bachelor's degree at Sonoma State. She obtained her Master's degree from San Francisco State University in 2013, where she focused on digital media and mass communications.
These moves are in line with Don Sebastiani & Sons' Dec. 2nd announcement outlining their New House Vintners next-generation portfolio of wines. The New House Vintners organization will be vertically integrated with winemaking, marketing, sales, and distribution aligned from grape to barrel to bottle. Ms. Staby will oversee both New House Vintners and Foundation Wine Collection portfolios, and provide strategic marketing leadership, brand development and mentorship to Ms. Burns and Ms. Rodriguez as well as the rest of the company.
About Don Sebastiani & Sons:
Don Sebastiani & Sons is a family-owned wine company based in the Sonoma Valley, with a winery in the Napa Valley. Principals Don Sebastiani and his sons, Donny and August, are third- and fourth-generation California vintners and merchants. The company was recently named one of the Best Places to Work by the North Bay Business Journal for the second consecutive year; that same publication also awarded company General Manager and CFO Tom Hawkins with the honor of Winery CFO of the Year. For more information on Don Sebastiani & Sons and their wines, please visit http://www.donsebastianiandsons.com/.
For further media requests about information, photography or samples please contact:
Polina Burns
707.931.2402
pburns(at)donandsons(dot)com