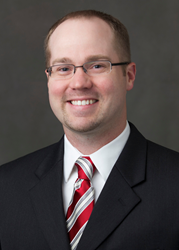 St. Louis, MO (PRWEB) May 13, 2015
FOR IMMEDIATE RELEASE
Maryville University Professor Named Apple Distinguished Educator
Dustin Loeffler, JD, assistant professor of cybersecurity and information systems at Maryville University, has been named an Apple Distinguished Educator (ADE). He joins a global community of just 2,000 innovative educators, from kindergarten through college level programs, who are pioneering the use of technology to transform teaching and learning in powerful ways.
Loeffler, one of few ADE educators in the Midwest and the first in the greater St. Louis region, was chosen in part for his use of Apple technology in Maryville's Digital World program, and for his integration of Apple technology with the Maryville Virtual Lab he programmed for the cybersecurity major. Loeffler will work with fellow ADEs and other educators to bring the latest technology ideas into classrooms at Maryville and in schools worldwide.
"This award highlights the technical advancements we're implementing quickly here at Maryville, and the innovative cybersecurity curriculum," Loeffler says. "I'm extremely honored to have been chosen for this program and look forward to serving as a link between Maryville University and Apple to expand our foray into the Apple ecosystem."
Maryville's new Digital World program is intended to revolutionize learning by integrating technology, namely the iPad and Apple ecosystem, into the classroom environment. In this way, students will become confident digital learners and communicators. As part of the program, all traditional, first-year students this fall will receive fully customizable iPads loaded with academic materials, useful apps and other study tools.
Employers cite a critical need for job candidates who can serve as problem solvers and critical thinkers, and who will enter their professions with market-relevant technology skills. The Digital World program is designed to empower Maryville students to explore, create and share their learning experience in class today, in the workforce tomorrow and as a tool for success throughout their lives.
About Maryville University:
Founded in 1872, Maryville University is a selective, comprehensive, and nationally ranked private institution with an enrollment of nearly 6,000 students. Maryville offers more than 75 degrees at the undergraduate, masters and doctoral levels to students from 50 states and 32 countries.
Media Contact:
Marcia Sullivan
Vice President, Integrated Marketing & Communications
Maryville University
341.529.9340
Marcia.sullivan(at)maryville(dot)edu