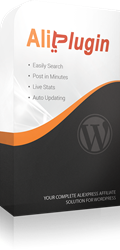 Dubai, UAE (PRWEB) May 13, 2015
AliPlugin 2.0, improved and supplemented with new features, has been launched by Ali Partnership Company to make the work of AliExpress affiliates even easier.
AliPlugin has become more and more popular across the globe. Hundreds of sites have already been built with its help. Over 1000 people who had installed AliPlugin became affiliate website owners and now run successful businesses with stable passive income. AliExpress offers its partners up to 50% commission on each sale, and AliPlugin users have seen in person that the average conversion rate of 3.5%, combined with the vast goods turnover, make this business an attractive income opportunity.
AliPartnership Company is constantly updating its product and always improving the plugin to create an ideal tool for earning money with the AliExpress affiliate program. The new 2.0 version has been released recently with the following features added:
•Currency Converter – Easily converts Dollars to Euros, Pounds, Reals and other prevalent currencies;
•Seller's Feedback Score Filter. This new filter allows the ranking of sellers according to the amount of positive feedback they have received, which is a very useful option when it comes to selecting only the most trusted sellers operating on AliExpress;
•Products' Rating shows the average rating of every product based on a five-star scale. This information is helpful for selecting and importing top products which are favored and most trusted among buyers;
•New Built-in Themes: one can choose from the selection of new stylish themes to get a professionally designed site launched and operating in a few minutes.
One of the most anticipated features now available is the possibility to create AliExpress affiliate sites in your own language and for your own country. AliPlugin has acquired a great new feature – importing products in various languages: English, Spanish, German, French, Portuguese, Russian, etc. Once you've selected the needed language in AliPlugin settings, all product data, including meta tags, will be translated automatically and imported into your site in just one click.
The new version is available right now at alipartnership.com.
View the AliExpress Plugin video