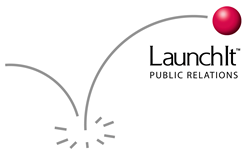 CLEVELAND, OH (PRWEB) May 13, 2015
MacroPoint, creators of patented freight tracking software designed to give 3rd party visibility into load status, today announced it has retained the services of LaunchIt, Inc., a full service public relations firm focused on the North American commercial vehicle market.
"We chose LaunchIt because they have the ability to fully understand how our solution benefits the supply chain and then accurately and efficiently execute our message," said Glynn Spangenberg, general manager at MacroPoint. "Third party shipment tracking is a real-world challenge in the freight transportation market and we are confident LaunchIt is the right partner to help us deliver our message to the companies that can benefit from our solution."
Activated from a driver's mobile phone, including flip phones, or existing in-cab ELD/GPS device, MacroPoint's patented location tracking software gives third parties load status and location visibility on their shipments. With MacroPoint, brokers, 3PLs and shippers now have the same real-time location tracking, on-time delivery monitoring, and arrival/departure notifications that GPS-enabled carriers have been utilizing for over two decades. In addition to eliminating the need for 3rd parties to check in with carriers to receive load status reports, integration with a wide range of TMS systems automates the entire process providing for the simple, seamless and frictionless movement of data between MacroPoint enabled fleets and their customers.
"As with all our clients, MacroPoint needs to be financially stable, demonstrate the product works as stated, and is indeed something the industry can use," said Susan Fall, president of LaunchIt. "MacroPoint easily met and exceeded our criteria and we look forward to making their presence known. "This is a product that isn't just filling a void in the supply chain, it's actually a powerful solution that is bridging the information gap between carriers, shippers, 3PLs and brokers by delivering, really for the first time ever, load location information for potentially every load on our nation's roadways. That's a message that LaunchIt is thrilled to deliver."
About MacroPoint
Headquartered in Cleveland, Ohio, MacroPoint designs freight tracking solutions for shippers, brokers and 3PLs. Founded in 2009, MacroPoint's patented, automated load tracking software provides load location visibility to third parties. The 'pay per use' solution works on any cell phone, not just smart phones, and with existing in-cab tracking devices to provide real-time location tracking, on-time delivery monitoring, and arrival and departure notifications to third parties. Integrated with a wide range of TMS systems, MacroPoint automates the entire process, eliminating the need for drivers to check in with dispatchers, and for shippers and brokers to check in with carriers. To date, nearly 300,000 drivers supporting thousands of brokers, shippers and trucking companies are MacroPoint enabled. To learn more about MacroPoint's go-to solution for third party shipment tracking, call 866-960-0328 or visit http://www.macropoint.com.
About LaunchIt
Founded in 2000, LaunchIt represents transportation technology companies in their quest to increase the visibility of their products and services to the commercial vehicle industry. Specializing in the business-to-business environment of the North American supply chain, LaunchIt utilizes a network of transportation industry experts to rapidly and effectively convey pertinent messages to media and key industry influencers. Located in San Diego, California, LaunchIt clients include established industry leading companies and start ups throughout North America and Europe. For more information, visit http://www.launchitpr.com.
Media Contact:
Susan Fall
LaunchIt Public Relations
858-490-1050
susan(at)launchitpr(dot)com