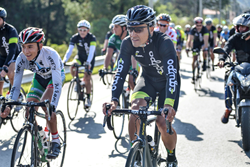 The world needs to know Colombia is an amazing place to ride.
New York, NY (PRWEB) May 14, 2015
As the official U.S. bike tour company of the Campagnolo Gran Fondo New York (GFNY), slated for Sunday, May 17th, Equipo Cycling, Inc. announces two new destinations, Boyacá, Colombia and Mallorca, Spain to their list of growing custom cycling tours.
"We are proud to be part of world-class events like GFNY and I couldn't think of a better opportunity to share with cyclists the new places we go and personally invite them to join us on an Equipo cycling tour. Not to mention it's great to be back in the city where I grew up. I have so many wonderful memories of riding in Central Park, Prospect Park, Red Hook – everywhere," commented Anisha Munoz, President and Co-Founder of Equipo.
Equipo is a global cycling tour company delivering the ultimate team cycling experience in amazing destinations. The husband and wife founders, Anisha and Rene Munoz created and built a brand that is more than a cycling tour, but rather a team experience. They operate from their showroom/office headquarters in Boulder, Colorado, a cycling mecca and gateway to adventure sports in the Rockies.
By channeling the company's mission into designing and guiding the world's most inspired cycling vacations, Equipo opens doors to one-of-a kind unforgettable experiences and delivers custom tours in Colombia, Colorado and Mallorca, Spain. It's a team experience fully customized, from the routes, to the cuisine, hotels and destinations. They are the only American tour company with designated tours to Colombia, not to mention the only company that has a bike fleet for rent there.
Equipo's reputation in Colombia is growing and evolving into a lifestyle brand, attracting world business executives, beginner to avid cyclists and people from around the world. Equipo has featured on past tours, world champion pro cyclist Santiago Botero and his professional development team of rising stars from Orgullo Antioqueno.
"Equipo raises the bar on what it takes to have that right team by your side. I've lived in all different parts of the world, but when I came to reside in Colombia a decade ago, I saw a passionate country that was ready to be rediscovered. The world needs to know Colombia is an amazing place to ride. It is our mission to create unique experiences designed to what each cyclist wants and there has never been a better time to visit. I'm applying everything I have learned from two decades in high-tech corporate toward my passion – with Equipo," adds Anisha Munoz.
Co-founder, Rene Munoz leads many of the tours in Colombia, where he is from. "I have the local insights to bring our cycling experiences to life in each of our destinations: Antioquia, Valle del Cauca, Quindío and soon Boyacá, home of Nairo Quintana. Not only will you be riding your bike, but you'll see and hear unique, authentic aspects about my country. In Quindío, for example, we're touring the region where the world's best coffee grows, and we'll pass miles of coffee plantations and then demonstrate how it ends up in your cup."
Pro cyclists like Nairo Quintana, Rigoberto Uran and former champions Santiago Botero, Victor Hugo Pena, Lucho Herrera have grown the curiosity for Colombia, making it a desirable destination and one to explore with a team like Equipo.
Equipo is the only company with a fleet of bikes from Denver, Colorado based - Alchemy. Providing custom carbon fiber bikes in both Colombia and Colorado for clients to rent, making it even easier for travel.
"Equipo provided our group with magnificent organization, great riding, humor, food and overall incredible service. They accommodated the shifting needs of our group and made this cycling challenge one we will always remember," commented Sean Colgan. Mr. Colgan's group of 11 executives made up an exclusive tour to Colombia that started in Bogota and ended in Cali, including Alto de Letras – one of the highest and longest paved roads in the world.
For more information on custom tours and destinations with Equipo visit them online at http://www.equipo.pro.
###