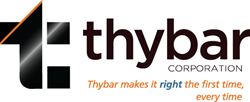 Addison, IL (PRWEB) May 15, 2015
Illinois State Senator Tom Cullerton, who represents the state's 23rd Senate district, including Addison, Villa Park, Glendale Heights and other nearby areas in Cook and DuPage counties, recently paid a visit to the Addison offices of Thybar Corporation, a manufacturer of custom sheet metal products.
As a prominent manufacturing businesses in the district, Thybar raised concerns common to many other Illinois employers, which Cullerton promised to discuss with leaders of the Illinois Manufacturers' Association.
Foremost among these issues was the reform to Workers' Compensation laws desired by many Illinois manufacturers. Illinois continues to have some of America's least-regulated Workers' Comp laws, which present a competitive disadvantage to employers. While Thybar leaders acknowledge the critical role Workers' Comp plays in protecting its employees from lost wages due to injuries and illness, they stressed the need for transparency on the part of both insurers and employees to create a system fair for all parties, with rates that allow Illinois manufacturers to compete with those in other states.
Also on the agenda were the issues of business taxes, which continue to present a burden to American manufacturers not shared by their foreign counterparts, and the issue of
multi-employer pension plans. As Illinois continues to struggle with the issue of underfunded pensions in the public and private sector, private-sector employers like Thybar are feeling the pinch. Thybar leaders wanted to know why small manufacturers were bearing the increased tax burden when they were not party to the bad deals.
Said Thybar President Tim Warner, "For small and mid-sized manufacturers, these issues aren't about getting a free ride at the expense of our employees and the taxpayers; they're about economic survival. We already pay our fair share—not only in taxes but in the wages and benefits of our workforce. Unlike the big multinationals, it was the small manufacturers like Thybar who chose to keep their jobs in America and keep the real economy functioning, and we need people in Springfield who are going to fight for our employees."
During his visit to Thybar, Senator Cullerton and Chief of Staff Nick Giannini also enjoyed a tour of the factory, one of five facilities throughout the United States where Thybar manufactures custom sheet metal products like the "roof curbs" that attach HVAC units to the roofs of commercial buildings. Thybar VP of Operations Jeff Catalano and Plant Manager Craig Hoffman explained Thybar's product lines and processes. The Senator learned more advanced concepts like seismic and wind load calculations through an in depth discussion with Thybar's PE Paul Selman.
Cullerton came away from his meeting not only with a new found appreciation for the skill and quality of the American-made products manufactured in his district, but also with the pressing concerns that threaten to further reduce the competitiveness of American manufacturing in the era of free trade and budget cuts.