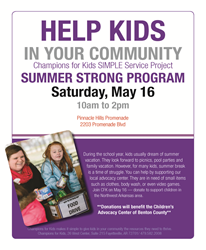 Our local service projects are the DNA of our culture.
Fayetteville, Arkansas (PRWEB) May 15, 2015
Champions for Kids, in partnership with Pinnacle Hills Promenade, will host a SIMPLE Service project to launch the #SummerStrong campaign. While the Summer Strong campaign has national reach, Champions for Kids plans to collect items for the Children's Advocacy Center of Benton County (CAC) during its second community-wide SIMPLE Service Project. The project, focused on collecting items for local kids in need will take place from 10 a.m. to 2 p.m. at the Center Court at the Promenade Mall in Rogers.
For many low-income families, youth organizations serve as critical outlets during the summer months when children no longer receive free access to resources at school. Because of this need, agencies like the Children's Advocacy Center are often strained to provide more assistance to families in crisis.
"Our aim is to give children back their childhood by offering a safe, child-friendly environment for victims of child abuse," said Natalie Tibbs, assistant director and registered nurse at the Children's Advocacy Center. "These donations of toys and tools will bring joy and delight to children going through very traumatic experiences, assisting in the most basic need that a child may have who is seen at the CAC."
Items most needed include liquid hand soap, toiletries, personal hygiene items, video games, kids' movies, kids' clothing for any season, hats or mittens, nutritious snacks, art supplies, board games and toys. For a more detailed list of items, please visit the Children's Advocacy Center website at http://www.cacbentonco.com.
"Our team loves coordinating local SIMPLE Service projects to benefit children where we live and work," said Adelaide Schaeffer, CEO at Champions for Kids. "Our local service projects are the DNA of our culture."
Champions for Kids asks that community members nationwide get involved in simple projects to help kids in their local communities during the Summer Strong campaign between May 15 and June 30. By participating and sharing their stories, community champions may be eligible to win financial awards for their school or youth-based organization. Please visit http://www.championsforkids.org/summerstrong for more details surrounding the Summer Strong campaign.
About Champions for Kids
Champions for Kids makes it simple to give kids in your community the resources they need to thrive. Since 2004, Champions for Kids has served more than 5.6 million children across all 50 states through in-store donation campaigns, service projects and community events. For more information, please visit http://www.championsforkids.org.