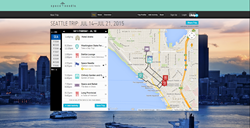 'We are excited to be embracing the future with the Space Needle,' said Gilad Berenstein, founder and chief executive officer of Utrip.
Seattle, WA (PRWEB) May 14, 2015
The Space Needle announced today it has launched Utrip PRO, a free travel planning tool, for visitors to its iconic tower. The technology, based on recent advances in artificial intelligence, helps travelers easily create personalized itineraries, and is now available on the Space Needle website.
Last summer, the Space Needle unveiled some groundbreaking digital experiences to enhance visitors' connection to the Pacific Northwest. For example, its mobile app allows visitors to use their devices on site to experience "augmented reality" as a virtual Space Needle rises out of the ground for photos. The addition of the Utrip PRO trip planner is the next step in the Space Needle's continued focus on showcasing the future.
"Since opening for the 1962 World's Fair, the Space Needle has been proud to welcome visitors from every corner of the world to enjoy breathtaking views and savor all things Seattle," said Karen Olson, vice president of marketing, Space Needle LLC. "The Space Needle makes the perfect launching pad for every kind of Pacific Northwest adventure – foodies, first-timers, families, and everybody in between. With Utrip, we can offer our guests a custom, quick, and easy way to plan their Emerald City excursion from the minute they book their plane tickets to the second they leave their hotel room."
The Utrip PRO platform uses a traveler's interests and budget to create personalized itineraries including hotels, activities, and restaurant recommendations. The system also engages local area experts to design Featured Trips showcasing their favorite venues in the city.
"We are excited to be embracing the future with the Space Needle," said Gilad Berenstein, founder and chief executive officer of Utrip. "The Utrip PRO trip planner will help Space Needle visitors plan their entire trip to Seattle, highlighted by a visit to the most important icon of our city. In addition, partnering with the Space Needle helps us reach a new category of travelers—people who plan their trips around a specific activity."
About the Space Needle
The Space Needle is the celebrated icon of Seattle, second only to the Eiffel Tower in Paris as the most easily-identified global skyline feature. Built for the 1962 Age of Space World's Fair, it continues to symbolize the leading-edge innovation and technology that the city is known for and serves as a beacon into the future.
About Utrip
Utrip is a free travel planning platform that brings together the best in artificial intelligence and human experience, making it easy for travelers to create their perfect trip. Founded in Seattle in 2012, Utrip's predictive technology works on a vast travel database that has been curated by local area experts. Once a traveler indicates their interests and budget, Utrip's algorithm sorts through millions of combinations of must-see sites, activities, and restaurants to deliver personalized itineraries—in minutes. Travelers may then book lodging and share their itineraries with friends.
Utrip PRO, the white-label version, allows businesses such as DMOs, hospitality groups, and attractions to offer personalized travel planning on their sites. Utrip's companion mobile app provides access to itineraries, directions and personalized recommendations on the go. To learn more about Utrip or to plan your next adventure, visit utrip.com