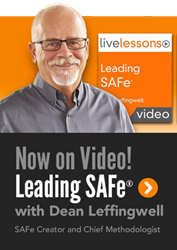 The goal of this 7+ hour course is to equip you with the knowledge necessary to lead a Lean-Agile transformation at enterprise scale.
Boulder, Colorado (PRWEB) May 14, 2015
Scaled Agile, Inc. (SAI), provider of the Scaled Agile Framework® (SAFe®), the world's most comprehensive framework for adopting Lean-Agile best practices across an enterprise, has announced the release of Dean Leffingwell's Leading SAFe®: Leading the Lean-Agile Enterprise with the Scaled Agile Framework®, a LiveLessons downloadable video tutorial available through Pearson Education's informIT, and informIT resellers.
Leading SAFe: Leading the Lean-Agile Enterprise with the Scaled Agile Framework, provides an in-depth exploration of the Scaled Agile Framework (SAFe) and how to lead a Lean-Agile transformation by leveraging SAFe and its underlying principles of lean systems thinking, Agile development, and product development flow. By applying SAFe across the enterprise, software-dependent organizations can improve time-to-market, productivity, quality, and employee engagement, making them more Agile in the marketplace and more competitive in their industry.
"Our focus has always been on providing easily available resources that software-dependent enterprises can use to make a profound impact on their business outcomes and how they deliver value," said Dean Leffingwell, Scaled Agile's Chief Methodologist and CEO. "Our partnership with Pearson Education has made it possible to bridge the gap for people who may not be able to initially attend the 2-day Leading SAFe certification course, but still need to gain the knowledge necessary to start or continue their Lean-Agile transformation by leveraging SAFe."
This 7+ hour course is delivered in eight key lessons where Dean presents high-level overviews, as well as specifics where they are most needed, exercises to test the viewer on what they've learned, and at the end of the course, clear-cut steps they can take to start their journey of transformation. After watching this video, viewers can expect to have an understanding of the Scaled Agile Framework; Lean thinking and embracing Agility; how to apply SAFe principles; how to plan, execute, and implement an Agile Release Train; how to build an Agile Portfolio; and how to Scale Leadership to the next level of enterprise performance.
More information and discount promotions can be found through Scaled Agile at: http://scaledagile.com/leading-safe-video/
A 3:45 minute video presented by Dean Leffingwell on The Value of Using the Scaled Agile Framework (SAFe) can be found here.
About Dean Leffingwell:
Recognized as the one of the world's foremost authorities on Lean-Agile best practices, Dean Leffingwell is an author, entrepreneur, and software development methodologist. His two best-selling books, Agile Software Requirements: Lean Requirements Practices for Teams, Programs, and the Enterprise, and Scaling Software Agility: Best Practices for Large Enterprises, form much of the basis of modern thinking on Lean-Agile practices and principles. Founder of several successful startups, including Requisite, Inc., makers of RequisitePro (acquired by Rational), Mr. Leffingwell also served as Chief Methodologist to Rally Software, and prior to that, as a Sr. Vice President at Rational Software (now part of IBM). He currently serves as CEO and Chief Methodologist to Scaled Agile, Inc., which he co-founded in 2011.
About Scaled Agile, Inc. (SAI):
Based in Boulder, Colorado, USA, privately-held SAI's mission is to help software-dependent companies achieve better outcomes, increase employee engagement, and improve business economics through adoption of Lean-Agile principles and practices based on the Scaled Agile Framework. A 2014 winner of the Red Herring North America Top 100 Award, and 2015 Edison Award Nominee, SAI supports tens of thousands of practitioners of the Framework through training, certification, consulting services, and a global partner network that reaches over 35 countries and 350 cities.
To learn more, visit http://www.scaledagile.com
Media Contact:
Regina Cleveland, Director of Communications
+1.720.477.1756
Regina.Cleveland(at)scaledagile(dot)com