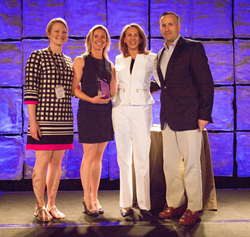 Scottsdale, AZ (PRWEB) May 13, 2015
Natixis Global Asset Management has been named the winner of Kolbe Corp's Enterprise Award. The award honors an organization for using the Kolbe SystemTM of instinctive strengths assessment to achieve positive, quantifiable results in major projects.
Ted LeClair, senior vice president, Client Solutions Group and director of the Natixis Advisor Academy, accepted the award on behalf of the company.
"Natixis has thrived by offering innovative services and solutions to its clients," said Kolbe Corp CEO David Kolbe. "We have been impressed by the depth and quality of how it has integrated conation into its strategy of building client relationships."
During 2014, Natixis launched a concentrated campaign that involved having employees at several hundred Natixis financial advisor clients complete Kolbe ATM Indexes. The goal of the campaign was to help employees at every level understand their instinctive talents, while making Natixis a true partner with its clients.
Each individual's conative strengths help to determine how they solve problems when given the freedom to act instinctively. The conative part of the mind pertains to volition, striving and directed effort. Kolbe Corp has been the leader in research on conation for four decades. For most of the past century, researchers have focused on understanding and quantifying the cognitive and affective aspects of the mind while paying relatively little attention to the conative aspect.
Natixis received the award at the Conation Nation Symposium, which is dedicated to cultivating understanding of conation and inspiring action. The event featured presentations from leaders in coaching, human resources, and personal relationships as well as a keynote address by Talent Development Expert Rich Vincent who has served in senior leadership development positions with such organizations as Nestlé and Amazon.com
For more information about the Conation Nation Symposium, visit: http://www.kolbe.com/cns or email: kolbetraining(at)kolbe(dot)com.
About Kolbe Corp
For four decades, Phoenix-based Kolbe Corp has helped people identify their instinctive talents and use their innate abilities to succeed. Kolbe Corp's software, consulting, and personnel assessments are used by individuals and organizations throughout the United States and in 34 countries on five continents to find and develop top talent, increase productivity and build effective teams. Kolbe solutions are currently available in English, Spanish, French, and German.
###