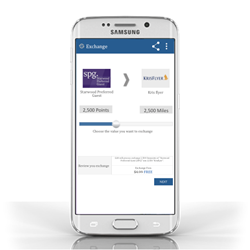 "Giift.com was designed to become a global exchange marketplace for points, miles and gift cards," said Laurent Xatart, President and co-founder of Giift.com
New york, NY (PRWEB) June 12, 2015
Giift.com released its latest version this month with a unique loyalty and gift card exchange platform allowing consumers to exchange their points, miles and gift card values online (https://www.giift.com/exchange/).
Giift.com was designed to become a global exchange marketplace for any type of loyalty program, gift card or other virtual currencies. Currently, there is no comprehensive, effective or easy way for loyalty program members to track what they have and to redeem or exchange their program's value. Giift.com now offers an answer to these problems by allowing consumers to take full advantage of their value.
"With Giift.com, no more gift cards will remain in your wallet, no more points or miles expiring or impossible to redeem, everything is in one digital wallet and ready to be exchanged and used to its full potential," said Laurent Xatart, President and co-founder of Giift.com. An innovative idea, that is simple to use.
Giift.com is an open network of relationships between program issuers and members. Retailers can join the network for free and be part of the exchange network so they select the partners to work with, start to connect and engage their consumers through the network, and acquire new members needed to survive in this competitive market. It is a well-designed exchange platform that is easy for consumers to use with a back office streamlined for retailers. "Giift.com is a unique exchange platform for points, miles and gift cards, with the main objective to become a global market place. It is an innovation that will allow retailers to enhance their redemption methods and that will finally give the consumers an easy and effective way to utilize their points and miles," said Laurent Xatart.
Giift.com operates the largest loyalty and gift card network with over 4,500 loyalty/card programs, in more than 50 countries. With the goal to increase the benefits of all loyalty and card programs, Giift.com is changing the landscape of how loyalty programs are redeemed, to ultimately benefit both users and businesses around the world.