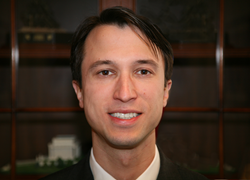 SIA members highly value the receptiveness of DHS S&T to collaborate with industry.
Silver Spring, Md. (PRWEB) May 14, 2015
Jake Parker, director of government relations at the Security Industry Association (SIA), will appear as a witness at a House Homeland Security Committee hearing, "Examining DHS Science and Technology Directorate's Engagement with Academia and Industry," chaired by Rep. John Ratcliffe, R-Texas, at 10 a.m. on Tuesday, May 19.
The Subcommittee on Cybersecurity, Infrastructure Protection and Security Technologies called the hearing to seek perspectives on how the Department of Homeland Security (DHS) Science and Technology (S&T) Directorate collaborates with academia and private companies on relevant research topics and how it partners with industry on the development and acquisition of products for DHS component agencies. The hearing will convene in Room 311 of the Cannon House Office Building.
"For the past few years, the Security Industry Association has fostered a strong partnership with the DHS Science and Technology Directorate to serve as the voice of the security industry into federal homeland security research and development processes," Parker said. "SIA members highly value the receptiveness of DHS S&T to collaborate with industry, and we have some perspectives from our members as to how that collaboration can to continue to improve and evolve. SIA looks forward to a constructive conversation with the agency and with Congress on the mutual benefits of utilizing private sector expertise to enhance homeland security."
Jake Parker is available for interviews on SIA collaboration with the DHS S&T Directorate before and after the hearing. His full testimony will be made available on May 19. Please contact Mickey McCarter, SIA communications manager, at mmccarter(at)securityindustry(dot)org or 301-804-4704 to request an interview.
The hearing is open to members of the press and the public. Those who cannot attend in person are welcome to watch the hearing live online at http://homeland.house.gov/live-video-feed.
About the Security Industry Association
The Security Industry Association (SIA) (http://www.securityindustry.org) is the leading trade association for electronic and physical security solution providers, with nearly 600 innovative member companies representing more than 350,000 security leaders and experts who shape the future of the security industry. SIA protects and advances its members' interests by advocating pro-industry policies and legislation at the federal and state levels; creating open industry standards that enable integration; advancing industry professionalism through education and training; opening global market opportunities; and collaboration with other like-minded organizations. As a proud sponsor of ISC Events expos and conferences, and owner of the Securing New Ground® conference, SIA ensures its members have access to top-level buyers and influencers, as well as unparalleled learning and network opportunities.