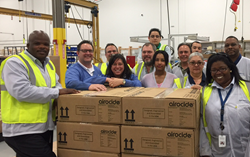 PartnerTech provided all of the key criteria for engineering and manufacturing expertise and impressed us early on with their collaborative approach.
Atlanta, Georgia (PRWEB) May 19, 2015
PartnerTech Inc., a wholly owned subsidiary of PartnerTech AB of Sweden, provides expert manufacturing, engineering, process and product development to the industrial line of Airocide products. The newly formed partnership with Akida Holdings will alleviate cumbersome supply chain logistics, delays in customer response and overall time and effort expended in overseeing quality control elements for their air purification product line designed for commercial use.
Airocide is the only air purification system that completely destroys airborne bacteria, mold, fungi, viruses, volatile organic compounds and odors. The NASA funded technology is used by the produce industry, the floral industry, hospitals, and is expanding rapidly within the wine industry.
As demand for Airocide has expanded around the world, the leaders of Akida Holdings began looking for an experienced manufacturing partner in the U.S. that could provide the engineering, process, product and manufacturing support needed. PartnerTech provides responsiveness to customer demand and simplified supply chain logistics as a U.S. based manufacturer as well as providing increased levels of quality control Akida Holdings sought.
David Kight, COO of Akida Holdings, states, "Finding a U.S. partnership for manufacturing was very important to us. With increasing demand around the world, and particularly from the U.S. wine industry, manufacturing in the U.S. made sense from many perspectives– responsiveness, product quality and ease in managing the supply chain."
"PartnerTech provided all of the key criteria for engineering and manufacturing expertise and impressed us early on with their collaborative approach. The combined expertise from different disciplines ensures a high level of quality and provided an unanticipated benefit in the significant reduction of energy and effort on our side as we have such confidence in the PartnerTech process for quality."
In addition to resolving supply chain and speed-to-market needs, PartnerTech is providing the advantage of Made in America status for the Airocide line of products. This distinction has proven valuable for both domestic and international distribution for Airocide.
"We are a U.S. company selling distinctly U.S. technology, created by NASA. For Akida and our distribution partners, it is significant to carry a Made in America label especially when distributing globally and to know that the quality of the PartnerTech process is engineered into the product," states Michael Johnson, VP of Operations, Logistics and Supply Chain for Akida Holdings.
PartnerTech offers manufacturing expertise to clients in MedTech, IT, and CleanTech for products, like Airocide, serving clients on the forefront of green initiatives and solutions that are good for the environment and people. They hold a number of certifications that ensure consistent quality for their clients including ISO 13483, 14001, 9001 and C-TPAT and offering capabilities to a wide range of industries.
About Akida Holdings, LLC
Akida Holdings is the manufacturer and marketer of air purification products offered under the brand name, Airocide. Airocide is a technology, developed by NASA that is marketed on a worldwide basis as both a commercial and consumer product, directly and through various dealer organizations. Airocide Air Purification products are used in schools, hospitals, outpatient surgeries, laboratories, food processing facilities, food storage facilities, businesses and homes around the world. The products are used to defeat bacteria and viruses, mold and mold spores, VOCs (organic gasses), organic odors and organic chemical smells.
About PartnerTech
PartnerTech is a global industrial partner offering customized solutions throughout the product lifecycle, from product development to manufacturing and aftermarket services, in a number of market areas such as MedTech and Oil & Gas. With approximately 1,400 employees at its plants in Sweden, Norway, Finland, Poland, the UK, the United States and China, PartnerTech reports annual sales of more than $335MM. PartnerTech AB, the parent company, has its head office in Malmö, Sweden, and is listed on the Nasdaq OMX Stockholm Exchange.
PartnerTech Inc. is a wholly owned subsidiary of PartnerTech AB of Sweden and offers expertise in systems integration and postponement manufacturing, making them an obvious choice for companies seeking to lower costs through better forecasting, supply chain alternatives, and efficiencies in distribution and management of capital investments. Services are tailored to fit the needs of each client, with regard to scaling production, shipping expertise, and sourcing methods.