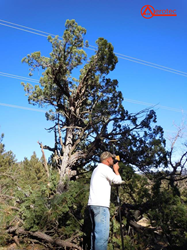 Laser solutions can reduce costs by minimizing time in the field and maximizing the quantity and accuracy of the data collected.
Centennial, Colorado (PRWEB) May 15, 2015
Laser Technology, Inc., (LTI) is hosting a webinar to demonstrate best measurement practices and workflow for professionals in the Electric Utilities sector. Learn how to use LTI laser solutions to dramatically increase worker safety and the reliability of field measurements, alleviating stress that field crews frequently experience. Laser solutions can also reduce employee costs by minimizing time in the field and maximizing the quantity and accuracy of the data collected.
Titled "Electric Utilities Measurement Practices that Promote Worker Safety and Efficiency," the webinar will air live on Wednesday, May 20, 2015 at 10 AM (MDT) and will specifically address the best routines for pole audit inventory, vegetation management and sag and tension measurements for transmission and distribution lines. The webinar will feature three speakers including GeoSpatial Experts Technical Account Manager Tyler McGarrity, LTI Senior Product Manager Derrick Reish and Aerotec CEO, Jim Dow. Jim Dow. Mr. Dow is generally acknowledged as one of the most influential engineers in the United States regarding CAD/CAM/CAE technology and LIDAR "filtering" software development.
Regarding pole audits, the webinar will cover how to simplify accurate data collection in the field. For wooden pole assets, this presentation will specify how to use LTI's Criterion RD 1000, a diameter measuring tool to help determine whether utility poles can handle more load. The diameter measurement can conveniently be taken at the same time and location as the height measurements, to gather data at each of the attachment points for load engineering analysis.
For vegetation management applications, attendees will learn how to verify potential hazards from a safe location to support the NERC FAC-003-2 requirements. For the sag and tension of transmission and distribution lines, LTI will discuss how installed line tension is difficult and expensive to measure and what solutions are available to streamline the measurement process and decrease cost.
LTI's TruPulse laser rangefinders have several different measurement routines that can be utilized for each of the applications mentioned above, making data collection simpler. Because of reflectorless technology, LTI lasers are capable of measuring directly to conductors, attachment points and vegetation from a safe location. LTI's upcoming webcast will demonstrate how the routines are useful for measuring attachment heights and service separation distances, span between poles, towers and GIS pole positioning.
Don't ever second guess the accuracy of data or contemplate the safety of working in dangerous, high voltage environments. The performance and reliability of LTI's instruments and solutions will help eliminate these hazards altogether. All webinar attendees will be entered to win a T&D Pro Laser System that includes an LTI TruPulse 360R, T&D Pro software, a BAP data collector, a tripod, and accessories.
About LTI
Laser Technology, Inc. has been a pioneer in the laser measurement industry for over 28 years and was the first to successfully integrate a reflectorless distance laser with a tilt sensor and an electronic compass. This resulted in the creation of the TruPulse® 360: a handheld, pocket-size laser delivering three-dimensional measurements with onboard solutions for heights, span between remote points and values used for GPS offsets in reference to magnetic north. Field data collection and mapping applications for LTI technology include mining, forestry, Electric Utilities, telecommunications, construction, government, GIS and more.