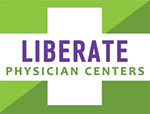 Lafayette, CO and Norton Shores, MI (PRWEB) May 14, 2015
Liberate Physician Management LLC and Liberate Physician Centers today released a new animated video to promote its offering of licensures to open medical marijuana certification centers in all states that allow the use of medical cannabis. The video is posted at http://www.liberatephysiciancenters.com and at YouTube (https://www.youtube.com/watch?v=4Z-b5KMFxWU&feature=youtu.be).
"We produced this video to help draw attention to the licensure process and make it more easily understandable," says Daniel J. Reid, Liberate's chief executive officer. "We think entrepreneurs and physicians will find it highly informative."
Liberate announced its licensure process on April 7. The company offers physicians and entrepreneurs the ability to operate medical marijuana certification centers using its proprietary process and the Liberate Physician Centers brand.
The company is in final negotiations for its licensures in Colorado, Florida, Massachusetts, New Jersey, New York, Nevada, and other states, according to Reid. "We are receiving inquiries from all over the country, and many have moved to final stages. We are very pleased with the initial level of interest," he says.
FOR FURTHER INFORMATION:
Daniel J. Reid
Chief Executive Officer
dreid(at)liberatepc(dot)com
312.316.4313 (cell)