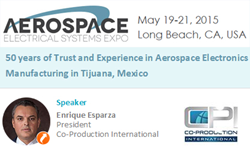 At its inception, the draw for foreign manufacturers was its low-cost labor rates. Today the manufacturing landscape is much different; Mexico has attracted global corporations such as Honeywell, Gulfstream, Rockwell Collins and other top companies
San Diego, California (PRWEB) May 14, 2015
Global Aerospace & Defense companies will almost double their manufacturing output in Mexico. The country's A&D exports were valued at 5.463 billion dollars in 2013 and are expected to grow to 11.3 billion dollars in the next five years. The State of Baja California is a leading authority in the aerospace manufacturing sector with an average yearly growth of above 20% in the last ten years according to the data from the Ministry of Economy (SE).
Esparza is a featured speaker at the Aerospace Electrical Systems Expo, to be held May 19-21th, 2015, at the Long Beach Convention Center in Long Beach, CA. His company, Co-Production International, is a shelter services provider that assists companies to establish new operations in Mexico and manages the administrative duties in accordance to Mexican regulations.
Esparza will give his presentation, "50 years of Trust and Experience in Aerospace Electronics Manufacturing in Tijuana Mexico," on Wednesday, May 20th at 3:50 p.m. at the Aerospace Electrical Systems Expo. His talk will review how the growth of A&D in the region has evolved to international competitiveness, and nearshore benefits that will allow the industry to continue to grow in the future. Esparza and his team will also be available for consultations before and after his presentation at CPI booth #2159.
Esparza has been helping manufacturing companies set up facilities in the Baja California region for nearly 35 years. He notes that companies representing the entire A&D supply chain are taking advantage of the abundant highly skilled workforce and human capital, as well as a variety of academic and applied research centers of great national and international prestige that the Baja and Southern California Economic Mega Region have to offer.
Among the major players in the A&D industry with a presence in Baja California, Mexico are Lockheed Martin, Honeywell, Smiths Connectors, Conesys, Delphi, Benchmark Electronics, Eaton, Smiths Interconnect, Asteelflash, Esterline, Kavlico, CST, Cubic and Zodiac Aerospace.
These companies represent a number of specialties within aerospace and defense component manufacturing and assembly, including:

Hydraulic systems and interiors
Metal plate conformation processes
Thermal capabilities for special processes, thermal and surface treatments
MRO on engine parts
Precision machining
Electrical and power systems
Coupled with the competitive manufacturing costs, and it´s cultural affinity with the United States, Mexico and specially the Baja California region, is the ideal destination for industries which require high added value, knowledge and advanced manufacturing for the aerospace and defense sector.
About Co-Production International:
Co-Production International is strategically headquartered in San Diego, CA and is the premiere Administrative Services Provider of the IMMEX (Shelter) Program in Baja California, Mexico.
We handle the complete set-up of your Mexico manufacturing operation and manage the day-to-day administrative duties allowing you to control and focus 100% on manufacturing. As your near-shore solution CPI offers several programs designed to successfully establish your operation; The Shelter Program, Independent Corporation and a menu of Administrative Services.
To learn more of how to Increase your bottom-line profits and ensure your competitive advantage through one of the most cost effective labor markets in the world, go to http://www.co-production.net or call us at (619) 429 4344