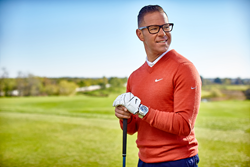 HD Golf™ simulators are an incredibly complimentary instructional tool.
Toronto, ON. (PRWEB) May 14, 2015
Leading golf simulator company, High Definition Golf™, announces a partnership with swing coach Sean Foley, ranked second on Golf Digest's America's 50 Best Teachers in 2013. One of the hottest instructors in the game, Foley, who teaches out of Orange County National in Florida and NYC's Golf & Body, sees great value incorporating HD Golf™ into his ongoing efforts to help golfers improve their respective games.
"HD Golf™ simulators are an incredibly complimentary instructional tool," says Foley. "The realism of the courses is fantastic and the accuracy of the system in measuring a golfer's swing and shot detail is very impressive."
Foley takes a uniquely scientific approach to instruction; incorporating biomechanics, physics, philosophy and geometry into his teachings making HD Golf™ a natural fit with his teaching style. The simulator and teaching accessories provide a completely integrated professional golf instruction studio including diagnostic tools for shot analysis, video swing analysis, weight transfer/balance and motion analysis to break down every aspect of a golfer's game.
Golf & Body NYC, Foley's exclusive indoor training facility, is Manhattan's premiere country club featuring seven HD Golf™ simulators, and is the ultimate venue for golf fitness and training.
"The HD Golf™ system provides unique technology to further refine the process of instruction," continues Foley. "When teaching in an indoor setting, the system allows me to analyze critical measurements of the golf swing, providing data that can help to guide efficient swing adjustments. I look forward to advancing my use of the technology and contributing to the continuous evolution of the product."
Foley's impressive roster of current PGA TOUR clients includes Justin Rose, Hunter Mahan and Matt Every.
"We're thrilled that Sean uses HD Golf™ as a component of his teaching techniques," says Todd Richardson, President of HD Golf™. "We designed the system to be used for instruction, practice, club fitting and recreational play, and are honored when leaders in the sport recognize the value in our product."
Foley has twice been featured on the cover of Golf Digest and ranked on their Top 20 Teachers Under 40 list.
About High Definition Golf™
High Definition Golf™, the world's best golf simulator, pioneered computer vision technology in the virtual golf simulation industry. Spectacular photo-realistic capabilities capture the true beauty of some of the world's most renowned golf courses. For instruction, HD Golf™ offers a fully integrated professional golf instruction studio. Very easy-to-use, these professional-grade tools operate seamlessly from a single computer system. This has made HD Golf™ simulators a favorite in luxury homes, indoor golf centers, golf course clubhouses, recreation centers, luxury hotels & resorts. For more information, visit http://www.HDgolf.com. Be sure to like us on Facebook, and follow us on Twitter.
For Sean Foley related media inquiries contact: Christopher Armstrong, Senior Vice President, Wasserman Media Group, carmstrong(at)wmgllc(dot)com
For HD Golf™ media inquiries contact: Soulla Lindo, Marketing Director, Soulla(at)hdgolf(dot)com, 1-866-323-0095