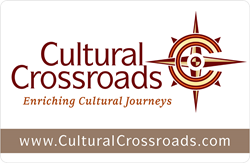 Discover the world through one-of-a-kind itineraries for a trip of a lifetime
Boston, MA - (PRWEB) May 15, 2015
Cultural Crossroads, an award winning Tour Company specializing in outstanding enriching cultural journeys to classic and exotic destinations, is proud to be partnering again with the Boston Globe, WBGH and other media to offer the ultimate travel experience to the most discerning travelers.
Upcoming in a few days there will be an exclusive tour to Cinque Terre and the Back Roads of Tuscany, a 10-day trip taking an intimate group of travelers with unparalleled cuisine commentary by Boston Globe Food Editor Sheryl Julian! Visits to a special winery, cooking classes and demonstrations, and enjoying sights of Lucca, Vernazza, Fosdinovo, Pisa, Portovenere and Camogli for a memorable journey to treasure forever.
In December with the Globe will be also a trip to Antarctica , the fascinating white continent. To celebrate the 100th anniversary of Ernest Shackleton's Imperial Trans-Antarctic Expedition (1914-1917) and the centenary of the Endurance voyage, travelers will be experiencing everything that the Antarctic Peninsula has to offer: the amazing environment is magnetic in this unique destination. We also stop on our way south to enjoy the vibrant city of Buenos Aires, Argentina and feast on many aspects of their culture and its many rich traditions, then head to Ushuaia, the southernmost city in the world. Discover the areas natural beauty with the spectacular Andes, Tierra del Fuego National Park as well as views of Chile and the Beagle Channel before our adventure out the Drake Passage to Antarctica: the extraordinary, ever-changing virgin landscapes, wildlife close ups and penguin colonies, incredible sunsets are just the beginning!
Discover the world through one-of-a-kind itineraries for a trip of a lifetime. Offerings include small tailor-made tours for individuals, families, multi-generations, groups and non-profits. Cultural Crossroads developed a unique approach, connecting travelers to people and places through unique events and experiences. Visiting with locals, Cultural Crossroads proudly supports sustainable community projects in the places visited, delving into their customs through traditions including dance, art, music, food and wine. Cultural Crossroads' tours have been chosen by both National Geographic in their "50 Tours of a Lifetime" and Condé Nast Traveler Magazine in their "50 Trips of a Lifetime." For additional information and booking, please visit: http://www.culturalcrossroads.com or call (toll free) 877-479-7040.