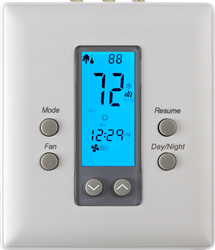 The US32-NX adds full thermostat lockout or a configurable override time to the Award Winning XBus platform.
Grapevine, Texas (PRWEB) May 14, 2015 (PRWEB) May 18, 2015
NetworkThermostat, a leading communications-based thermostat manufacturer since 1995, announces the availability of the new US32-NX XBus thermostat upgrade for the GE22-NX and the HP32-NX. The US32-NX can be used to replace up to 2 Heat/2 Cool Gas/Electric or 3 Heat/2 Cool Heat Pump conventional thermostat controls. The US32-NX features a new backlit display with secondary display that shows remote sensor information.
When using the US32-NX with the NT-IPXB Controller, the XBus system provides institutions with wired network security and HVAC technicians with the flexibility to install up to thirty two (32) of the US32-NX thermostats on up to 4000 feet of CAT5 cable. Dual XBus drives allow connection and control of all thermostats from a single IP address.
Full Ethernet 10/100Mbps connections to the NT-IPXB simplify PCI compliance for the commercial world. Control temperature from a LAN or from the Internet. Controlling multiple US32-NX thermostats is as easy as controlling one. Use the free Enterprise-Class Net/X Command Center PC software for single screen drag-and-drop scheduling and control of multiple thermostats at different locations over the Internet. Use the PC software for calendar-based vacation scheduling and graphical analysis of HVAC usage.
Adding the optional Net/X-Web™ web-based management software greatly enhances the power of new or existing Net/X™ HVAC Control Systems. It takes our already highly efficient system to the next level with even more control, management, reporting and savings. In addition to our famous point-and-click scheduling and real-time control, Net/X-Web™ provides a host of charts and graphs for dynamically viewing historical events and data. These features allow for the complete analysis of ever-changing HVAC environments, allowing schedules and set points to be fine-tuned for even greater energy savings while maintaining comfort. The Net/X-Web allows for truly mobile command and control of your HVAC systems from any smartphone or tablet. User defined text and/or e-mail notifications can be set up for HVAC malfunctions or unscheduled environment changes.
For conventional air condition systems, the US32-NX can be used with either gas or electric heat. When configured for heat pump operation, the US32-NX allows for heat pump balance points to be set for each thermostat directly from the thermostat faceplate. Use an outdoor sensor or the online weather service from the NT-IPXB to help manage the heat pump balance points. Commercial lockout prevents unwanted occupant tampering of the US32-NX configuration. The lockout feature allows an occupant a temporary ±3ºF or ±5°F override. An adjustable override timer can be configured from the front of the US32 to allow an override time from 0 minutes (full lockout) up to 24 hours in 10 minute increments.
After a power failure or for any HVAC call, an embedded randomization start sequencer delays the thermostat from starting the heating/ cooling equipment by 8-40 seconds. When multiple Net/X™ US32 thermostats are used, this minimizes the 'in rush' current (electric power usage) as it reduces the number of HVAC units that will be turned on simultaneously. This powerful integrated feature helps manage peak demand spikes without physically scheduling delayed HVAC start times.
The US32 supports auxiliary inputs and sensors. Each US32 supports occupancy sensing, two (2) digital inputs for condensate switch, dirty filter or other fault condition, and an advanced remote sensor bus. The 3-wire remote sensor bus supports up to six (6) remote sensors for room temperature averaging and an auxiliary sensor for monitoring the local outdoor temperature. Configurable occupancy input terminals allow a contact closure or occupancy sensor to place the HVAC unit in an unoccupied setback mode or turn off the HVAC unit when the space is unoccupied.
NetworkThermostat's open API allows software developers and hardware integrators the ability to quickly and seamlessly integrate the thermostat into other systems.
Availability
These products are available through an ever-growing network of online retailers, HVAC distributors and contractors. Detailed information on this product, and NetworkThermostat's industry leading network solutions can be found on the web at: http://www.networkthermostat.com , http://www.facebook.com/networkthermostat , email: sales(at)networkthermostat(dot)com, telephone: 866-563-0711