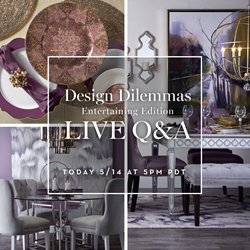 Los Angeles, CA (PRWEB) May 14, 2015
Z Gallerie, a family-owned retailer of stylish home furnishings, art and accessories, will host an interactive question and answer session to help social media followers with their toughest design dilemmas.
Z Gallerie's entertaining guide introduces a host of stylish place settings and entertaining inspiration that will transform the table into a work of art. This season the retailer mixes metallics with pops of color and infusions of texture. The guide also offers five cocktail recipes that are perfect for Spring and Summer. The guide can be found at http://goo.gl/P9z7fK.
The live question and answer session starts at 5 pm PT tonight with Facebook as the central hub (facebook.com/ZGallerie) for the series, "Design Dilemmas: Entertaining Edition." Fans have already started posting questions and can continue to do so through tweets with the hashtag #zgentertaining or questions posted on Instagram and Facebook.
"This is one of our favorite things to do," said Carole Malfatti, co-founder of Z Gallerie, "Interacting with fans who have real challenges in their home decor and helping them solve day-to-day dilemmas and give our merchandisers deeper insight into our customers' needs and challenges."
The design team will take questions until 7 pm. Previously the team hosted a popular question and answer session focused on finding general design solutions. Future topics could include bedroom design dilemmas as well as answers for fans stumped by decorating for the holidays.
"We have carefully curated an outstanding collection of tableware, glassware and accessories that set the tone for dinner and beyond," Malfatti said. "This summer we want to provide inspiration for creating beautiful tablescapes that welcome friends and family to eat, drink and enjoy the season."
About Z Gallerie
Founded by siblings Joe Zeiden, Carole Malfatti and Mike Zeiden in 1979, Z Gallerie began as a small poster shop in Sherman Oaks, CA. They operated the store during the day and framed posters at night in their parents' garage. More than thirty-five years later, their stores carry a full assortment of exclusive fashion forward home furnishings, including art and accessories - all at affordable prices. With 60 locations across the United States and an online presence at ZGallerie.com, Z Gallerie, still lead by Joe, Carole and Mike, continues to inspire all those who are excited by interior design. The company is headquartered in Los Angeles and has its buying office in Berkeley.
###