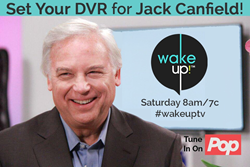 It looks similar to weekday network talk shows, so it feels familiar. Yet, all the while, we are having conversations about topics that transform lives, which gives viewers that 'ah ha' moment' says Wake Up! Executive Producer Adryenn Ashley
Los Angeles, CA (PRWEB) May 14, 2015
Television viewers who are looking for entertaining and enlightening content are now finding exactly what they need on Saturday morning with new talk show Wake Up!
"Wake Up! is a new show for the new mainstream viewers who want to add more meaning and purpose to live their lives. It looks similar to weekday network talk shows, so it feels familiar. Yet, all the while, we are having conversations about topics that transform lives—so subtly and so seamlessly that viewers don't realize until hours later when that 'ah ha' moment comes back and changes the way they look at the world," says Adryenn Ashley, the show's Executive Producer. wakeuptv.com/
Wake Up! was created by Ashley and business partner Lisa Marie, and is hosted by four women with expertise in promoting the wellbeing of the mind, body, and spirit. A lifelong high powered executive and member of the Association of Transformational Leaders, Cindy Ertman is versed in providing strategies to individuals looking to find the defining difference in their lives. Zhena Muzyka is an author, motivational speaker, women's business and life coach, and entrepreneur who founded the multi-million dollar fair trade tea company, Zhena's Gypsy Tea. Natalie Ledwell is the bestselling author of Never in Your Wildest Dreams, an inspiring speaker, and co-founder of pioneering global video vision board company, Mind Movies. Betsy Chasse is a mom, author, and filmmaker; she is also the co-creator, writer and director of the iconic What The Bleep Do We Know.
"All of these women are extremely accomplished in their own right, but they aren't perfect. We all have flaws and our hosts reveal their own true selves on the show to help viewers to see the possibilities in their own lives," Ashley says. "Each week, the hosts explore a variety of topics to help viewers to enhance all aspects of their lives, from parenting to finances to relationships. Not the run of the mill surface level conversations, our hosts dive deep into the truth. Through conversational interviews with top authors, trainers, and educators from around the world, they are able to give viewers the tools they need right now to achieve success." wakeuptv.com/
Guests range from authors don Miguel Ruiz and Lisa Nichols to actor Ryan Kelley of Teen Wolf. This week's episode will feature Jack Canfield, author of the inspirational Chicken Soup for the Soul series.
The concept for Wake Up! first took off after posting the idea on CrowdedReality.com, an online platform for reality television and talk shows. "We launched Wake Up! in January and within 120 days, we raised the $100,000 needed to tape five shows and get them on the air—and we've kept going," Ashley said. "With no paid advertising and using only word of mouth, 40,000 households tuned in to watch the premiere episode on May 9."
Wake up! airs Saturdays at 8 am/7c on POP TV. For more information, visit: wakeuptv.com/
ABOUT ADRYENN ASHLEY
With 30 years in the industry both in front of and behind the camera, Adryenn Ashley brings a unique perspective the art of entertainment. From shooting her first feature film in 8 days that went on to win awards around the globe for 2 years, to launching a TV development platform to give content creators greater control in the process, passion and an eye for what's next have populated the projects that Ashley has championed. Wake Up! is the first program to come off the CrowdedReality.com platform.
ABOUT LISA MARIE
Lisa Marie is a serial entrepreneur responsible for expanding her organic food startup to Europe and launching a global phenomenon. Always one to see the opportunity, Lisa parlays her relationships with influencers around the globe for the betterment of every project she touches. Currently the co-creator of Wake Up!, the first talk show for the New Mainstream, she is referred to as the Connector of all Things Good.
For more information or to register a project concept, visit: https://crowdedreality.com/