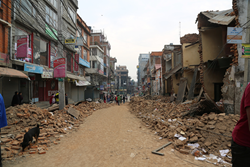 "The situation is getting critical with the rain and cold winds. It slows down the rescue and relief operation, and makes life difficult for those living on the street or in open fields." - Kushal Neogy, a CRS India staffer helping with relief efforts
Studio City, CA (PRWEB) May 14, 2015
Monday May 18th at 6pm PST, Los Angeles recording studio, Studio City Sound will be hosting an online concert on its YouTube channel https://www.youtube.com/watch?v=vEHVeaYuAt0 to benefit victims of the two earthquakes that struck Nepal on April 25th and May 12th causing widespread devastation and costing the lives of more than 8,000 people with 1.5 million people in need of immediate relief.
The benefit concert will feature performances by:
Tierney Sutton, Laurence Juber, Sharon "Muffy" Hendrix, Jade Hendrix, The Tramps, Craig Taubman, Royal Jacks, Cobi Mike, Kristen Toedtman, Harley Jay, Layla Lane, Heather Youmans, Jon MacLennan and more.
All donations will go directly to Catholic Relief Services who are currently in Nepal committing $10 million to emergency responses. The priorities for donations include shelter and living supplies, water, sanitation and hygiene, livelihood recovery, counseling and psychological support.
Donations can be made online at donate.crs.org/Nepal or by phone 877-435-7277. Checks can be mailed to CRS P.O. Box 17090, Baltimore, MD 21297