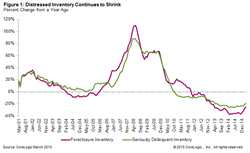 prospective buyers are encouraged to get pre-approved for a home loan now
Chicago, IL (PRWEB) May 14, 2015
Lenders like Peoples Home Equity were thrilled to read that foreclosures are on the steep decline, according to a recent May 12th Corelogic article titled "Number of Loans in Foreclosure Lowest Since December 2007."
The total number of foreclosed homes in America fell by "25.7 percent year over year in March 2015 to approximately 542,000 homes, or 1.4 percent of all homes with a mortgage. This marks 41 months of consecutive year-over-year declines."
Regionally, the five states that experienced "the largest year-over-year drop in the foreclosure inventory were: Florida (-45.8 percent), Maine (-37.7 percent), Connecticut (-36 percent), Idaho (-35.5 percent) and Illinois (-33.6 percent)." Interestingly, "Massachusetts (+15.3 percent) and New Hampshire (+0.4 percent) experienced year-over-year increases in the foreclosure inventory." Peoples Home Equity, a lender based in the Midwest is happy to see such national wide improvement. The lender has multiple locations in Illinois and is benefiting from rising home prices with the submission of multiple mortgage applications.
Peoples Home Equity thinks the number of foreclosed properties will decline as more Americans become approved for home loans. Individuals have had enough time to build/rebuild their credit since the recession or graduating university that they now have money to use as a down payment for a home. This is especially true among young first-time home buyers, eager to stop paying rent. With foreclosures on the decline, property prices on the rise, and mortgage rates rising in follow, prospective buyers are encouraged to get pre-approved for a home loan now. One can easily calculate what their loan payment would be for a mortgage using the Peoples Home Equity "Monthly Payment Calculator" tool.
If in need of a mortgage, contact a Peoples Home Equity loan officer today at: 262-563-4026