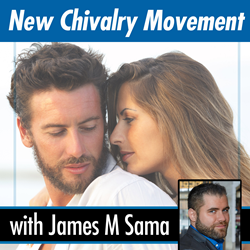 Listeners will discover James M. Sama's simple and sensible approach to happy, healthy relationships
Boston, MA (PRWEB) May 15, 2015
James M. Sama is pleased to announce the launch of its first New Chivalry Movement podcast. The first episode was made available to the public Wednesday, May 13, and is titled: 16 Secrets of Couples with the Strongest Relationships. In the debut podcast, listeners will discover James M. Sama's simple and sensible approach to happy, healthy relationships.
 
The New Chivalry Movement is a new take on old ideals: Courtship, Romance, Passion, Love, Respect. All of the positives of days past, without the chauvinism or condescension. The basics of opening doors and pulling out chairs, not because a person is seen as 'weaker' or incapable, but because they are worthy of being valued and treated well. A new episode on these topics and more will be available every Monday morning.
"I'm beyond excited about the direction and growth I have seen in The New Chivalry Movement. I have a passion to see people hold higher standards for themselves, stop mistreating others and stop accepting mistreatment from others. I firmly believe that this shift in personal relationships can change many other aspects of life," says James M. Sama, founder of The New Chivalry Movement.
The podcast can be found on the JamesMSama.com website, or visit the iTunes store.
 
About James M. Sama
In addition to writing, James Michael Sama has been featured on multiple media outlets including live events, public speaking, magazine interviews, talk shows, and radio appearances. The JamesMSama.com website features articles on dating and relationship issues.
James frequently contributes to and is featured on: The Huffington Post, Thought Catalog, Fox News, The Good Men Project, YourTango, AskMen.com, CNBC, The Daily Beast, and more.