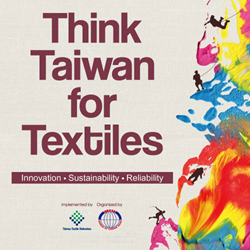 As a specialist in the textile industry, Taiwan Textiles integrates fashion and function into the textile supply chain with versatile applications.
(PRWEB) May 19, 2015
The Taiwan textile industry -- starting with fiber ending up with garments, various products for industrial and home applications -- makes Taiwan unique among its global competition and supply chain. Think Taiwan for textiles is the natural result of years of accumulated effort and expertise. Today the Taiwanese industry is a superior in this same global textile supply chain with products in all ranges of categories and end uses including natural fibers and synthetics.
Certification System of Taiwan Functional Textiles
To start the new millennium in 2000, the Taiwan Textile Federation (TTF) implemented a broad based certification system the "Taiwan Functional Textiles Certification System," providing a greater level of quality assurance in value added textile development and new product implementation.
Because the TTF has a mission to help in the creation of fashionable, creative and innovative textiles, the Taiwanese textile industry's efforts at research and development targeted at synthetic textiles has been an opportunity for functional niche markets. They represent a collection of value added products from the industry to the consumer, adding performance throughout the supply chain. The Taiwanese industry, already a technological leader in smart phones, LED lighting, computer and battery technology, is integrating these and other strengths into its Textile development and tomorrow's breakthrough concepts.
Next…
Facing the issues of global warming, a need for efficient raw material processing, clean energy limitations, pollution and other related concerns, the Taiwan textile industry has taken a leadership position in sustainable textile development. Ranging from the most basic ideas of recycling and production efficiency, the Taiwan textile industry takes the lead. An integrated textile company in Taiwan helps in the collection of plastic bottles to be converted into yarn and ultimately garments, which goes as far as processing the fabrics without the requirement of dyeing the fabric, available in white, green and mineral-based shades of the color gray incorporated in the yarns creation.
Find more about us at …
The Taiwan textile industry has made it easier for you to get to know us every year. You can even find us on our informative web site at http://365.textiles.org.tw/, Facebook at http://goo.gl/a3mStp or get our convenient "app" for all the latest TTF news and events at http://goo.gl/FhEptu.
If you have a textile need, let the TTF know and we will do everything we can to help you fulfill it.