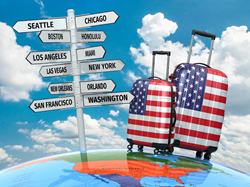 'Relocating to the US will improve our ability to better target and react to customer and partner needs as we continue to aggressively grow the business.' - ikeGPS CEO Glenn Milnes
Broomfield, CO (PRWEB) May 14, 2015
ikeGPS (NZX:IKE) announced today that Glenn Milnes, Chief Executive Officer and Managing Director, and Leon Toorenburg, Chief Technology Officer and Director, are relocating from the Wellington, New Zealand headquarters to the company's Broomfield, Colorado sales & marketing office.
The US represents the largest near-term market opportunity for sales, partners, and investors for ikeGPS. Having both Milnes and Toorenburg based in the US bolsters global expansion plans and enables the company to better capitalize on North American-based opportunities. The majority of ikeGPS' current customer base for its core products, OEM channel, and contract services are located in the US.
From its early beginnings with the US Army Corp of Engineers, ikeGPS has found success in the US market. GE MapSight is becoming a standardized solution with US-based Utility and Telecom companies. Spike has been adopted by hundreds of US-based small and medium size businesses, helping them to modernize how physical measurements are gathered and shared. In addition, current ikeGPS partners – General Electric (GE), IN-Q-TEL, Stanley Black & Decker, ESRI, and others – are all headquartered in the US.
Milnes, a native New Zealander, has worked extensively in the US market over the past decade. During his tenure with ikeGPS, Milnes has spent significant time in the US leading ikeGPS strategic partnership development and many of its largest revenue producing customer engagements. Prior to ikeGPS, Milnes spent many years engaged in the Americas market with No 8 Ventures and prior to that with Cable & Wireless International.
Toorenburg is the founder of ikeGPS and has many years' experience working with the US Federal Government and the Geospatial community throughout the evolution of the business. With the move to the US, Toorenburg will lead product research, advance the company's intellectual property strategy, and will be market-facing support for customer and partner engagements.
The New Zealand office will continue to be the company's center for software and hardware engineering, manufacturing, and corporate functions including finance & accounting. The day-to-day management of the Wellington office will be led by ikeGPS' Chief Financial Officer, Gael Hargreaves, and Head of Software Engineering, Peter Shaw.
"Leon and I are excited to be working alongside the talented sales and marketing leadership that we have assembled in the US since our IPO last year," says CEO Glenn Milnes. "Over the past three years, I've personally logged hundreds of thousands of flight miles between New Zealand and the United States. Relocating to the US will improve our ability to better target and react to customer and partner needs as we continue to aggressively grow the business."
About ikeGPS
ikeGPS is changing the way the world is measured, utilizing its smart laser measurement solutions to capture, record and export measurement data. Electric utility, telecom, government, engineering, construction, real estate, signage, and other field data collection-based professionals use ikeGPS products to modernize the way measurements are taken and shared.
Spike, a laser accurate Smartphone measurement solution, and GE MapSight, an all-in-one customizable field data collection solution, uniquely combine intelligent software and hardware into comprehensive but simple-to-use tools. With an ike photograph, you can capture measurement, distance, location and other data in real time, significantly improving business process, user productivity and safety.
ikeGPS is headquartered in Wellington, New Zealand and is listed on the New Zealand Stock Exchange under the stock symbol IKE. The company's sales and marketing organization is based in Broomfield, Colorado, which supports global efforts in the Americas, EMEA, and APAC. For more information, visit http://www.ikegps.com.
GE is a trademark of General Electric Company and is under license by ikeGPS Ltd, 42 Adelaide Road, Wellington 6021, New Zealand.