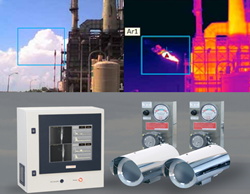 "Recent advances in thermal camera technology open the door to higher resolution thermographic stack monitoring at lower price points. FlareVIEW offers a powerful and cost-effective alternative to "on-stack" thermocouples. Markus Tarin, CEO, MoviTHERM
Irvine, CA (PRWEB) May 19, 2015
MoviTHERM (http://www.movitherm.com), a leading supplier of thermographic monitoring systems, announces "FlareVIEW" for pilot flame and gas flare monitoring. Ground-mounted thermal cameras simplify installation and maintenance without interruptions to the normal operation of the stack. Optional explosion-proof enclosures (Class I, Div 1 & 2, Grp. C & D) permit deployment in hazardous areas, while fiber-optic connections between thermal cameras and the control panel permit optimal camera positioning in a wide variety of circumstances.
The FlareVIEW system features one or more thermal cameras, offering greater resolution and area coverage than conventional IR pyrometer solutions. Multiple cameras arranged strategically around the stack provide different viewpoints for more reliable monitoring.
The system includes an integrated touchscreen control panel and intuitive software interface. Multiple temperature regions may be monitored simultaneously, with assignable alarm conditions for each region. Plant DCS integration is seamless using industry-standard 4 to 20mA current loop and 24VDC control signals. The system has been designed for quick set-up, and reliable, stand-alone operations. The system and the touchscreen controller software require no specialized training to use.
About the Company:
MoviTHERM - Advanced Thermography Solutions (http://www.movitherm.com) was founded in 2004 and is located in Irvine, CA, USA. The company offers thermal imaging systems for remote monitoring, automated inspection, and non-destructive testing. MoviTHERM is a FLIR Systems Master Distributor.