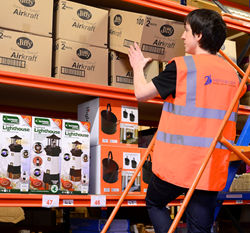 Given that we share a common language, all overseas e-retailers with an English website should be proactively securing their share of this vibrant cross-border market
London, UK (PRWEB) May 19, 2015
A British ecommerce and Fulfillment Company have announced that they will be pro-actively reaching out to North American and Australasian online retailers to help them expand into Europe's booming online retail market.
Motivation Marketing Ltd. (http://www.motivationmarketing.com) offer a wide range of services to help companies throughout the world expand internationally, including telemarketing and access to 60,000 sq. ft. of secure, palletised Storage and Distribution space across our three sites in Glasgow, London & Edinburgh.
Ecommerce is the fastest growing retail market in Europe, and online growth in Europe is expected to continue with 18.7% forecast for 2016, with the UK leading the way - followed by Germany and France.
"Given that we share a common language, all overseas e-retailers with an English website should be proactively securing their share of this vibrant cross-border market" observes Marc Jarrett, Motivation's Business Development Manager. "The United Kingdom is Europe's largest ecommerce market, making the British the most frequent online shoppers in Europe. Clearly, the opportunities here are enormous."
Other services that Motivation offer include managing a total fulfilment solution for all products sold online and delivering to wholesalers, retailers and consumers, next day delivery within the United Kingdom, as well as express and standard deliveries to Europe and other overseas destinations which are tracked in real-time.
"Since ecommerce is transforming the world into one global marketplace, the rewards for those online retailers that seize the opportunity to look beyond their home market can be significant. The internet is a truly global medium, and the world is indeed their oyster", concludes Jarrett.
For more information, visit http://www.motivationmarketing.com or email marc.jarrett(AT)motivationmarketing.co.uk
About Motivation Marketing Ltd.:
Established since 1991, Motivation Marketing Ltd (http://www.motivationmarketing.com) are a privately held company who have grown to become one of the UK's leading fulfillment specialists. Services on offer include fully automated inventory control, bespoke cloud based stock reporting systems and dispatch of single orders, consignments and pallets through via an extensive network of international courier services. Marketing services include; data sourcing and management, mailing and print, email, telemarketing and online marketing. For more information, visit http://www.motivationmarketing.com or email
marc.jarrett(AT)motivationmarketing.co.uk